Wednesday, May 31, 2006
Look-Alike: TVB vs. ATV Feature
I was just finishing up watching ATV's 49th Anniversary (yes, I occasionally watch their shows) and I saw the preview of ATV's newest series, "Central Affairs 2" (情陷夜中環 2). During the preview, there was someone that looks so much like our TVB actress: Gigi Lai (黎姿)! Yup! Funny…both companies have a superstar that represents their branch. hehe… =) And it's none other than Pinky Cheung 張文慈. I like that name. Pinky. Cute...and different! ;-) Well...since we know who Gigi is, how about some background info on Pinky. Let see...
*Sorry for the small image. The best I could find.*
Pinky Cheung Man Chi is one of ATV's hottest female actresses around today. After competing in the Miss Asia competition in 1996, Pinky signed with ATV and began her career. Most of her images onscreen (that I've watched) leans toward the sex appeal in order to get whatever she wants, e.g. Central Affair. But some of Pinky's most memorable films/series goes toward the horror genres. (shrugs) I don't know about that. In CA2, her image has changed from a seductive role to a more modest side. A fresh change, I assume. Possibly a breakthrough role for her.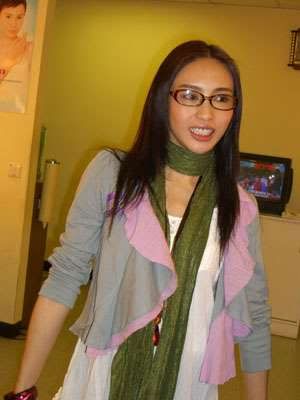 See the resemblance of the picture? Looks much like Gigi in her new series, "Super Cops" (通天干探), doesn't it? The hair looks to be about the same. The glasses? Yeah. Same modest look. Yeah. Looks the same to me! Didn't even catch the resemblance the first time! lol…whoops! So what do you think? Same or different? BTW: Is ATV trying to copy TVB? A little bit of info: Super Cop's costume filming was on February 20th, while CA2 was on March 22nd. hmm…coincidence maybe?