Thursday, May 25, 2006
Vivian kicks off concert with vengeance!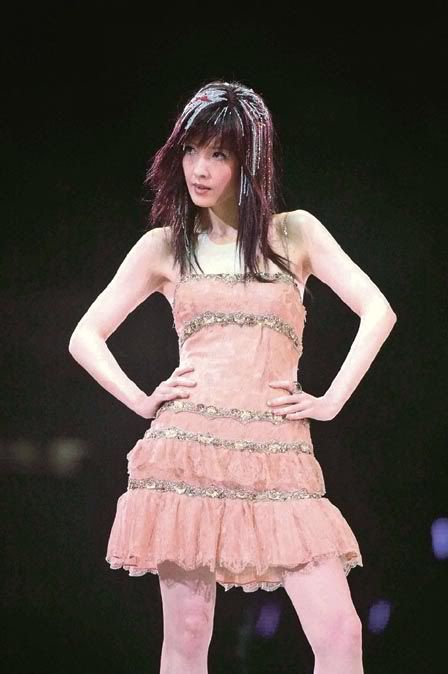 Although it's been about 10 years since last performed on stage, Vivian Chow (周慧敏) kicked off her 1 of 3 night concerts at the Hong Kong Coliseum with vengeance! Leaving behind her "Jade Girl" (玉女) image, Vivian wore a sexy short spaghetti-strap dress, estimated to be worth over $200 thousand HKD, to sing and dance!
Performing consecutively for 3 nights, the "Vivian Chow Back for Love 2006 Concert" started off last night at the HK Coliseum. Many people from the entertainment industry were present, such as: Linda Wong (王馨平), Gigi Fu (傅明憲), Hacken Lee (李克勤), and Emily Lo (盧淑儀). Although couldn't make it themselves, Leon Lai (黎明), Andy Lau (劉德華), Jackie Cheung (張學友), and Twins each sent her baskets of flowers respectively. Leo Ku (古巨基) brought along some abalone and shark fins, hoping that it'll protect Vivian's voice to stay strong for the rest of her performance.
Vivian first entered wearing a crystal-clad dress in the entrance of a Catwalk style; while singing her hit song "Fabricated Love in your Head" (自作多情). Wearing over $100 thousand HKD worth of V-shaped crystals in her hair, Vivian continued her concert and even did a sexy close-up dance with a male dancer! At one point during the night, Vivian appeared an elegant white evening gown while singing "Toi Ha Nui Jue Gok" (台下女主角) and said it's been a long journey from the young girl she was to the present day her and thanks her fans and friends for supporting her all this time. All proceeds from the concert will be donated to the Hong Kong Non-Profit Veterinary Clinic.