Friday, November 30, 2007
A duet with Raymond or Bernice? Your chance!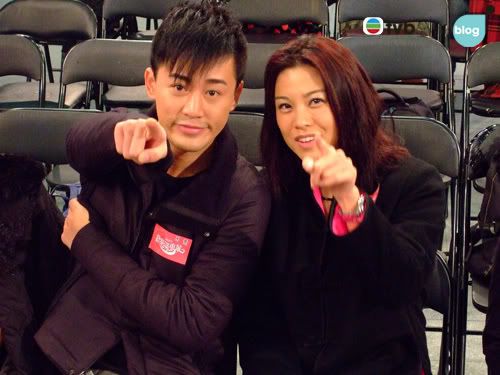 Photo Source: TVB Artistes Blog
The annual "Tung Wah Charity Show" 《歡樂滿東華2007》 is set to take place a week from tomorrow (Dec. 8th) and according to TVB.com, a chance to sing a duet with either Raymond Lam or Bernice Liu is up for bid! Definitely an once in a lifetime opportunity here. Here's how it works:
Hong Kong audience will have to go to ebay.com.hk (or TVB.com for direct link) to vote for whether you like a duet with Raymond or Bernice (there's separate tabs off of TVB's website). Once at the ebay site of the artist you had chosen, just start bidding! Just as simply as that! (Starting bid: $1000 HKD)
Winners will be able to sing with Raymond and Bernice
live
at the "Tung Wah Charity Show" on Dec. 8th! (I repeat it's going to be a live show!)
Bidding Period:
November 30, 2007 (12:00pm) - December 7, 2007 (12:00pm)
Song Choices:
- "相思風雨中"
- "人在旅途灑淚時"
- "明明白白我的心"
- "心太軟"
- "其實你心裡有沒有我"
- "Greatest Love of All"
Personally, I think this is a brilliant idea of TVB (or Tung Wah) to get more people to donate. Using TVB artists as baits for the fans. lol...I'm thinking to myself, if I was in Hong Kong would I be willing or even have the courage to sing live on TV with either Raymond or Bernice by my side? Umm...it would be fun, but...I don't think so. But since this is a charitable event, people of HK, remember to donate! It's for a good cause as every little bit helps! Happy bidding!