Saturday, November 17, 2007
WHAT?! WHAT?! WHAT?!
I'm trying to control my emotions here, (breathe in...breathe out...breathe in...breathe out...) trying to maintain my cool and collected image...(breathe in...breathe out...) but it's not working. WHAT IN THE WORLD IS WITH THE RESULTS! OH MY GOD! This is absolutely insane! It's rigged! It's all messed up! It's...it's...it's just wrong!
Why?...Why?...Why?...must TVB do this to us each and every year. It's just so dumb and makes no sense whatsoever to me. (sigh) For those who's still reading my rampage, I'm talking about the Anniversary Results of course, and for the highly surprised recipients for "Most Improved Male/Female" & "Best Supporting Actress." (sigh) Anyways, here's a recap, along with commentaries:
The TVB 40th Anniversary Award Ceremony night started off with clips of artists arriving in luxury cars (like previous years), accompanied by their designated parters for their walk on the red carpet. Next, we are brought back into TVB studios were Eason Chan kicks off the show singing "瑪利奧派對." His singing was good, but his clothings was hideous! You don't wear a gray-ish, purplish loose shirt that looks like a parachute and red sneakers to perform at such a formal night! And don't even get me started on the hair. Ugh!
Carol Cheng gets introduced as the night's MC, followed by the introduction of the artists: (in order of appearance)
1.)

Kenneth Ma, Ron Ng, Liza Wang, Bosco Wong, Sammul Chan


2.)

Kevin Cheng & Charmaine Sheh


3.)

Roger Kwok & Gigi Lai


4.)

Moses Chan & Bernice Liu


5.)

Bobby Au Yeung & Yoyo Mung


6.)

Louise Li, Ha Yue, Susanna Kwan


7.)

Myolie Wu & Raymond Lam


8.)

Sonija Kwok & Steven Ma


9.)

Wong Hei & Shirley Yeung


10.)

Kiki Sheung, Michael Tse, Sheren Tang


11.)

Wayne Lai, Kate Tsui, Michelle Yim, Louis Yuen


12.)

Tavia Yeung, Linda Chung, Sharon Chan


13 & 14.)

Harlem Yu, Patrick Tang, & I Love U Boyz


15.)

Wong Yi Hing & Selina Li, Nancy Wu & Wong Cho Lam


16.)

Chris Lai, Fala Chen, Natalie Tong, Matthew Ko


17.)

Florence Kwok, Alvina Kong, Elaine Jin, Yoyo Chen, Tsui Weng, Vin Choi, Stephen Au


18.)

Stephen Wong, Stephen Huynh, Toby Leung, Jack Wu


19.)

Law Lok Lam, Lau Dan, Mimi Lo, Mary Hon, Johnson Lee, Ai Wai


20.)

Power Chan, Derek Kwok, Evergreen Mak, Claire Yiu, Charmaine Li


21.)

Amigo Chiu
First award given away that night was "Best Host," which was purely given (imo) base on the popularity of the show "Foodies 2 Shows." I watched the show and believe me, they are far from being the best.
Second & third award being presented was the "Most Improve Male/Female." As you can see, I changed my translations from being "actor/actress" to "male/female," which is technically more accurate, especially since Amigo Chiu won the award. Most improved...Amigo stayed about the same to me ever since I saw him at the MHK pageant in 2004. Compared to Chris Lai's performance over the year, this award was definitely set up, allowing him to win.
Kate Tsui winning "Most Improved" was the one I'm most upset about. Bernice got robbed once again! True, I did say that she improved alot over the year, but when compared to Bernice, she's still lacking! What's worst was when Kate was making her way up the stage, clips and commentaries was aired, explaining why she deserves it. One line particularly line erk me: "Over the year, her performance has vastly improved, especially for her role in "Steps." For someone who doesn't know Latin dance and was able to dance it so mesmerizing & elegantly, it proves her hard work has finally paid off." That's a bunch of ____!! They're so talking about Bernice! (sigh) Kate's back on my blacklist, plus her makeup for night was terrible! Reminds me of Frida Kahlo.
The "Best Supporting Actress" was another surprise of the night for me. Fala winning?! Unbelievable! First year truly experiencing the front-line of acting TV series and she won?! What about all the seniors before her? They deserve it much more! Again, this award was rigged!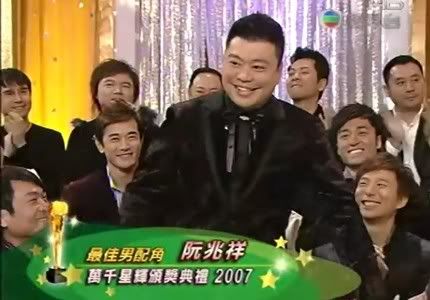 Yay for Louis Yuen! I guess the popularity tide from HOG really catches to all its cast. So far up to this point, the only deserving award winner. Congrats to Louis once again. The artists were so happy for him when his name was called. Emotional and funny acceptance speech as well. How Louis managed that at such a time was quite impressive.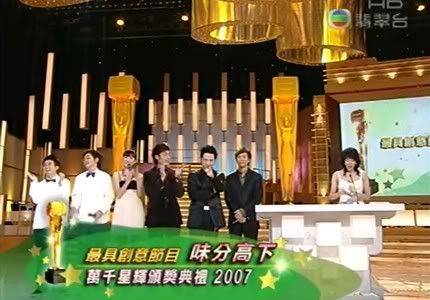 Next was for the award "Most Creative Variety Show" and won by "Foodie 2 Shows." Personally, I didn't think it was very creative as it's just a mix of the "Super Trios" & an old variety show hosted by Lydia Shum, Carlos Ng, and Timmy Hung. Again, it's the popularity thing.
For the "Most Enjoyable Value Show" award, it went to "Ten Years After" (拾年). I didn't watch this show, so can't comment on it.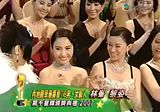 Award for Mainland's Favorite Actor & Actress, Raymond Lam & Gigi Lai, I assume it's deserving. I'm still questionable about how the system actually works. Not much applause from artists sitting below. Gigi was giving her acceptance speech in a very small meek voice for some reason. Surprised maybe. Raymond turned out to be very calm and collected (& very cute), but not overly happy about winning.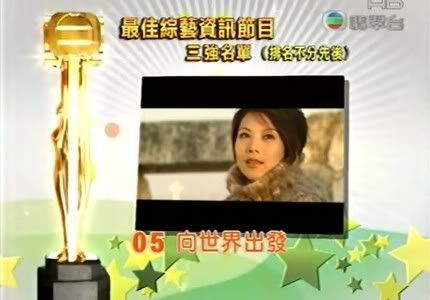 Yay! I guessed "Best Variety Show" accurately! Again, one of the best variety show ever produced. So happy to hear that a possible 3rd installment is in consideration. Can't wait!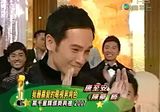 "My Favorite Male/Female Character" award was up next with Liu Wai Hung & Idy Chan as the presenters. Liu Wai Hung did a great job building up the excitement as everyone knew it was either Louise Li or Susanna Kwan getting it. Idy on the other hand had a long speech and I'm still not sure if I grasp what she was saying. Very deep and slightly too long. Anyways, Moses and Susanna won. Yay! Although, Moses did seem a bit disappointed when his name was announced, reminiscent of Charmaine's reaction from the year before.
"Best Promotional Clip" was the next award presented. There was neither a top 5 nor a top 3. It was just...they won. That's about it. Oh yeah...best clip goes to "The Drive of Life."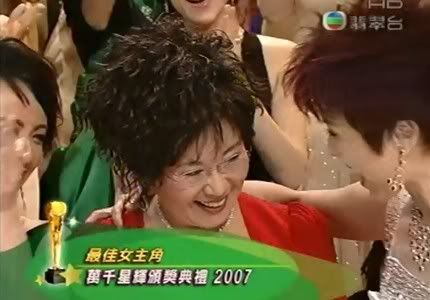 The hype of the night is finally here! Best Actress & Best Actor. Since Susanna Kwan already received the "My Most Favorite Female Character," automatically "Best Actress" would go to Louise Li. But a standing ovation was in order as that's exactly what she got when her name was announced. Louise's speech was great and emotional, but the true emotions starting pouring out when her daughter came out to present her with flowers. Aww...so sweet. Congrats to See Kei Jeh!!
It's great to see old faces again, especially faces like Kathy Chow. Still looks very pretty even in her 40s! She made a speech about the qualification of a perfect actor, and mentioned that a guy needs to be tall in order to look great with the female they're paired up with (not intentionally aiming towards Dodo and her boyfriend Lui Fong), but still pretty funny. Moses won (yay!), made a short speech thanking everyone and how he has finally got the award. When Moses paused, trying to think who else to thank, someone (I don't know who for sure; Louis Yuen as reported) said "Bik Yee" (Bernice), making Moses' face red and grinned while saying "Thank..., too." lol...so cute!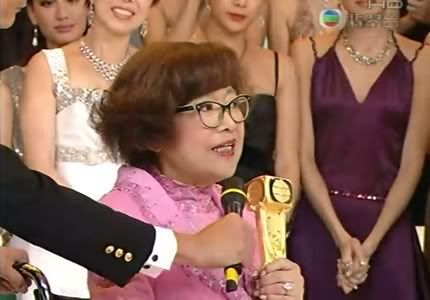 Last but not least, the prestigious "Lifetime Achievement Award" given to Lydia Shum. Standing ovation once again but this time from all the staffs of TVB. Seeing Lydia being wheeled out in her wheelchair, the dramatic weight lose and her devotion toward the television industry brought tears to everyone, myself included. It was great to see Lydia again back onscreen and I truly hope she remains healthy and recovers soon! =)