Tuesday, May 23, 2006
Jessica and Tavia lacks courage in competing in Beauty Pageant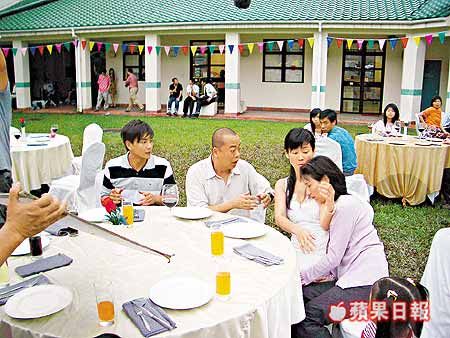 Bobby Au Yeung, Jessica Hsuan, Tavia Yeung, Michael Miu and Leanne Li were all filming an outdoor scene yesterday for their new series, "Dou Cheung Fung Wan" (賭場風雲). In the scene it talks about Tavia's character competing in a beauty pageant. On stage and fighting for the spotlight with the other contestants, Tavia accidentally exposed herself to the judges! Not only was Tavia embarrassed, but was eliminated from the contest, too.
Butin real life, Tavia thinks she's just really ordinary and so never competed in any beauty pageants before. "I don't have the courage to wear a swimsuit on stage. If my legs are 2 inches longer, and my breast increases a couple of cup sizes, and that there's a new regulations for not needing to wear swimsuits, then I might consider participating. Probably in my next life before I can compete in one! In the past, my mom has always encouraged me not to compete in any beauty contest. She's afraid that if I got eliminated, I'll be unhappy. But I think my older sister has the qualifications to enter. Nowadays, competing in a beauty pageant is very hard. You need to be very talented and versatile, that's why they're not for me! I'll just encourage some friends that meet the qualifications to participate." Jessica revealed that early on, one of her aunt has nominated her in joining a beauty pageant. But because of lack of courage in wearing a swimsuit, too, Jessica didn't participate.
Bobby and Michael were asked what they thought a pretty woman should have in order to meet the requirements in being beautiful. Together, they answered that it's different for everyone. Michael said, "It's really hard to say the standard requirements. At one time, someone has asked me to be a judge for a beauty pageant, but I refused. I don't want to give the wrongs points out, and carelessly send deserving contestants home."
During the filming for the outdoor scene yesterday, rain was constantly pouring; leaving the ground to be real muddy. Having to walk around in the mud with filming, the whole cast's feet were pretty dirty/muddy when finished. Even Bobby stated that he wants to hurry up and go home so he can get his feet clean off.
Source:
The Oriental