Thursday, May 18, 2006
Bad Hair Days with Celebs
Bad hair days....Everyone gets them. I do. You do. And celebs will most definitely do, too. Although, my fashion critique is still terrible, I find these hairdos....ehh....
Grace Yip
Going for the rocker type look, huh? Or did your hair stylist not show up for work? Sorry to all the Grace Yip fans. But...umm...sure. Not that great. It's....interesting. Different and most definitely eye-catching.
Kate Tsui
Am I picking on Kate Tsui lately or is it just me? hmm...seems like I'm not a great fan of her's. First off, she looks old in the pic! They both do! If they're trying to go back into the 70s or 80s, they've succeeded. But for a guy, Patrick Tang, it's okay. A girl? With that? And being MHK? I don't think so. Can't really judge anything else since didn't read the whole article.
Linda Chung
I'm starting to be a fan of Linda Chung. Don't know why and don't know when it started. But in this pic, it looks really bad to me. Probably, I'm used to her with her long straight hair, but still... Looks more like a mop to me. I don't like it. Sorry to any Linda fans. =/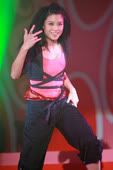 Bernice Liu
I really really don't like the hair. Looks....bad? Got struck by lightning just minutes before she had to perform hairdo? lol...compared to her other styles, which are normally great; this is one of my least favorites. But since Bernice had to dance, I guess it gives her a reason.