Sunday, May 14, 2006
TVB Actresses does better than Singers @ All about Women concert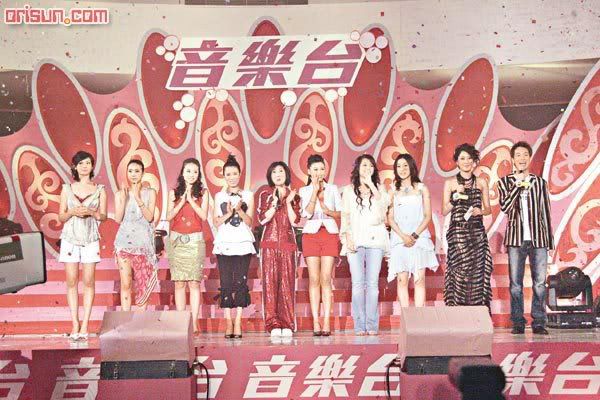 Last night was TVB's "All about Women" concert. Surprise surprise, I heard that the actresses did a lot better than expected and may even surpassed the singers! Miriam Yeung (楊千嬅) led the group of artists out at the beginning of the concert, but it was actually Charmaine Sheh (佘詩曼) who started the show off; singing her song "黃沙中的戀人" aka the sub-theme to TVB's Dance of Passion. Bravo on Charmaine for being the first one to perform. No pressure on her, I hope.
Bernice Liu (廖碧兒) sang a total of 3 songs that night and one of them was a duet with Justin Lo (側田). The news are stating that Bernice may have "accidently" rubbed herself against Justin, during their song, but it may be just rumors/gossips. Not too sure about the whole details. Bottom line: Bernice did a great job singing live and showed off some of her sexy dance moves. With her parents in the audience cheering her on, they must be proud of their daughterl. Go Bernice Go!!
Vivien Yeo (楊秀惠) sang a song during her part. But that's not surprising since everyone had to sing that night. Surprisingly, she played the piano while singing! And did an awesome job of both! She plays the piano? And can sing at the same time? hmm...didn't know that. Impressive.
Myolie Wu (胡杏兒) has been gaining pounds for her new TVB series (up to 130+ lbs. now), but because of the concert, she tried to loose some, in order to perform better. Singing a duet with Alex Fong (方力申) and doing her own rendition of Justin Lo's "Erica," Myolie even had Justin praising on her performance! Interesting...I guess Myolie is born to be a performer.
Haven't found any news regarding Linda Chung (鍾嘉欣) and Sharon Chan's (陳敏之) performance status, so don't know how they did. Stephy Tang (鄧麗欣) and Kary Ng (吳雨霏) did their usual things, singing very well, but not much more. Compared to Charmaine starting off the show, Bernice's hot dances, and Vivien playing the piano while singing, they just pale upon comparisons.
Seems like Miriam ended the concert, singing 3+ songs of her own when asked for an encore. But being dubbed as the "leader," Miriam really had no choice and showed off how good her singing abilities really were, despite not feeling well the night before. That definitely shows a true leader and professionalism. Hats off to Miriam. =)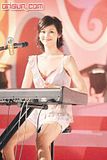 Pic 1:
Vivien Yeo playing the keyboard (and smiling to the camera) during her performance at the concert.
Pic 2:
Bernice Liu shows off her dance moves (and a little more) during her performance at the concert.