Saturday, May 06, 2006
TVB's promotion of "Girlfriends"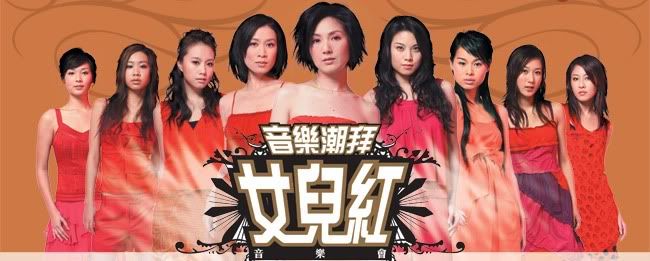 From left to right:
Vivian Yeo (楊秀惠), Kary Ng (吳雨霏), Stephy Tang (鄧麗欣), Charmaine Sheh (佘詩曼), Miriam Yeung (楊千嬅), Bernice Liu (廖碧兒), Myolie Wu (胡杏兒), Linda Chung (鍾嘉欣), and Sharon Chan (陳敏之)
Concert Info:
Date:
May 13th, 2006 (Saturday)
Time:
8:00 pm (HK)
Location:
Kowloon, HK
Not too sure if this promotion is directly link to TVB or just some affiliates of their's, but whatever it is, they're definitely trying to snag some business. According to the ad, if anyones signs up, before May 7th, to connect with TVB (I assume like a TVB version of COX or DishNetwork), they'll get 2 FREE tickets to the concert of "Girlfriends." Good deal? Bad deal? hmm...Like I said earlier, I'm not too sure if it's a direct link/promotion of TVB's or not, but what a great way to promote its release, right? lol...I'm not from HongKong, so don't know if it's a rip-off or not. What do you think?
By looking at the poster, I guess it's official that these artists are it for the cd. Kind of disappointed that Shirley Yeung didn't make the cut. I loved her Biter Bitten themesong! (sigh) Oh well....maybe next time. =/
*SEN:
Really don't know why, but when I first saw the poster of the concert, I thought of 2 things: 1) the Next TV awards; because of their cool expressions on their faces, same as Next (shrugs); 2) Virtues of Harmony's cd "Happy Together;" because of how they were lined up (shrugs) It's just me. =P
Credit
: tvbpayvision & yesasia