Wednesday, May 17, 2006
Look-Alikes for the Lee twins!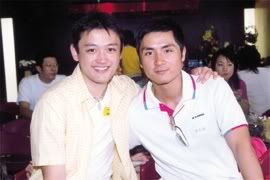 hmm...surprising today. Was browsing online again, like I usually do, and I saw
Jayne's
"Child Actors" features. Very well written as always, so good job to her. Yet I was a little surprised on what I found after reading it. First off, I did not know that Gregory Lee (李泳豪) aka Shirley Yeung's boyfriend had a twin. Anybody else besides me? Secondly, Gregory and his twin, Lee Wing Hon (李泳漢) looks a little like someone else...and I don't mean each other. Let see....
Gregory Lee vs. Kenneth Chan
So...what do you think? Same? Different? lol...can't believe that there's another person that looks so similar to Gregory and it's not his twin! hehe...=D Gregory Lee Wing Ho, we should all know him. But Kenneth Chan Kai Taai (陳啟泰) ....anyone else recognizes him? If not, it's not surprising since Kenneth's not with TVB (which he was in the 1990s), but is now one of ATV's most prominent actor/host. Some series that you might have seen Kenneth in are TVB's Time Before Time (大闹广昌隆) or Web of Love (网上有情人). Or if you're an ATV fan and just so happens to be reading "TVB" Sidsation's articles, you'll recognize him as host for "Who wants to be a Millionaire."
Lee Wing Hon vs. Edmond So
Gregory's twin, Wing Hon is not very popular to me. Like I said earlier, didn't know he was a twin. Recognizes him in a couple of TVB series, but since it was mostly minor roles, didn't pay much attention. The "twin" I found for him many of you should recognized: Edmond So Chi Wai (蘇志威). Edmond was in and currently still with the boy band, Grasshopper (草蜢). Some TVB series you might remember him in is DIF IV, Love Bond, Greed Mask, Family Man, etc. Again, do they look the same? Different? hmm...I thought they do, but it may be just me. (shrugs)
Image Credit:
Jayne @
http://jaynestars.com/