Monday, July 10, 2006
Celebrities Showing It All
Mr. Hong Kong 2006 Winner:
Francois Huynh
I have to say I'm pretty please with this year's winner of the MHK pageant. Francois Huynh. He looks cute w/ his baby face. lol... I'm getting flustered looking at his pic. haha...JUST KIDDING!!! He doesn't affect me that much! ;-) Anyways...21 of age, good looking, tall, well-built, and took part in one of TVB's "pageants;" a direct, major, huge, if not, somewhat chance of starring in some of TVB's series in the future. But so far, from my POV, I can't imagine him in any of my beloved series. Maybe later. =/
More and more new artists are joining TVB by every new series I'm watching. Some can act decently, while some are just...how to word this...blah!! How they got a job there and landed a speaking role, is beyond me! Most newcomers come from TVB's numerous variety/reality programs: MHK, Minutes to Fames, etc. And most of them can't act. Surprising, huh? (rolls eyes) With fresh young, green artists coming into the company in constantly; the older, more experienced veteran artists have to prove that they still got it to stay in the entertainment industry.
For example, take the recent news clippings of the male artists. The Mr. HK pageant was about to go underway and in the tabloids (online news source) of artists without their shirts on are up everywhere!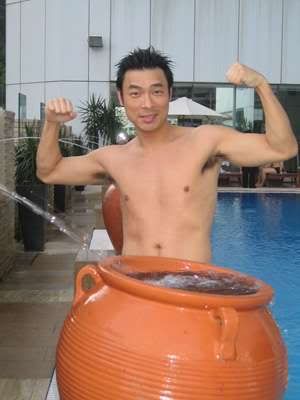 Andy Hui:
Filming for TVB's newest series "Lush Fields Happy Times" (肥田囍事) I believe. Btw, did Andy ever film for TVB, besides the Love...Paradise...something something with Yoyo Mung back in 2003-04? huh...(scratches head) Anyways, couple of days before the MHK pageant and showing off his upper torso physique. What MHK guys can do, so could he.
Kenny Wong:
Filming for a suntan lotion ad.
Kenny's a veteran actor for TVB, yet still supporting only minor roles. Luckily he has no problem baring his chest for series; e.g. Dance of Passion. Newbie contestants coming in? Doubt it'll affect him!

Kenny Kwan:
Doing something. Sorry, didn't read the news about him. hehe.. =P
Kenny may not be filming with TVB, but he's still part of the entertainment industry. With guys like, Francois, coming into the picture, Kenny, get up on your feet!