Thursday, June 22, 2006
Joey supports Dad on Online Entry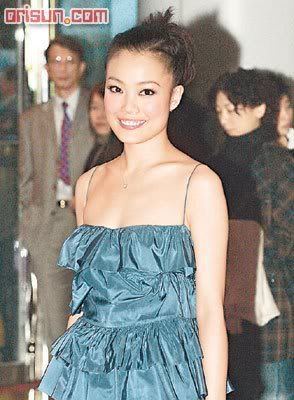 Joey Yung (容祖兒) has always been known as one of the most filial daughters in the entertainment industry. Over the years, when news ever came on concerning her dad, Joey usually just ignores it. But in Joey's heart, her love for her dad will always be there and even posted her feelings online.
Growing up in a single-parent family, Joey along with her mom and younger brother lived together harmoniously. In order for her family to live a decent life, Joey was in her teens when she took full-responsibility of the household; becoming the head of the house while entering the entertainment industry, to become a singer, almost at the same time. Ever since Joey's dad's departure from the family, Joey's heart has been filled with resentment towards him. In the past, Joey would rarely talk about her dad, but in recent years, Joey's hatred had diminished considerably. This past Father's Day, Joey posted up a journal entry; reminiscing her childhood they've spent together.
In the entry, Joey states that she's very grateful of her dad for giving life to her and for all he has done. When Joey was first born, her dad was ecstatic; running up and down the corridors many times in joy. When Joey was old enough to eat, he would crush and soften peanuts in his mouth and fed it to little Joey. When Joey was 6 years old, her dad would give her the newest electronic games available and buy her new clothes for the New Year. Although her dad had spanked a mischievous Joey before, he ended up crying right afterwards! Joey's sweet and happy childhood lasted until she was 15, when her parents decided to file for a divorce. Ever since the separation, Joey admitted that her and her dad's relationship has drifted apart, but she stills cares for him. Joey wishes her dad happiness and success in all he may do; forever supporting him.

Source:
Orisun