Saturday, June 10, 2006
Good luck, Selena!!
Finally!...I'm finish catching up with the recent entertainment news!! Yay!! (been very busy lately) Anyways, the current most shocking headline (to me): Selena Li (李詩韻) needing to lose 10 lbs in 10 days!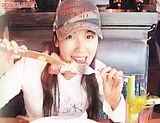 OMG!!! In my standards, that's crazy! From what I read in
Em
's translations, Selena needs to lose off 10 lbs of weight to play a 90 lbs, sweetheart in "Fei Tian He See" (肥田囍事). 10 lbs. Not that much, but in 10 days!!! Oh my... (takes a bite out of a candy bar; J/K!!!)
Why does the producer want so much weight loss? 90 lbs. (faints) Personally, I think Selena looks just fine and could probably pass for that role. No need to diet. Poor her. (sigh) The wonders and cons of the entertainment industry. Have no choice, but to follow instructions...so best of luck in burning off the burgers and onion rings, Selena!