Monday, June 05, 2006
Roger and Jessica promoting "Life Made Simple" in Taipei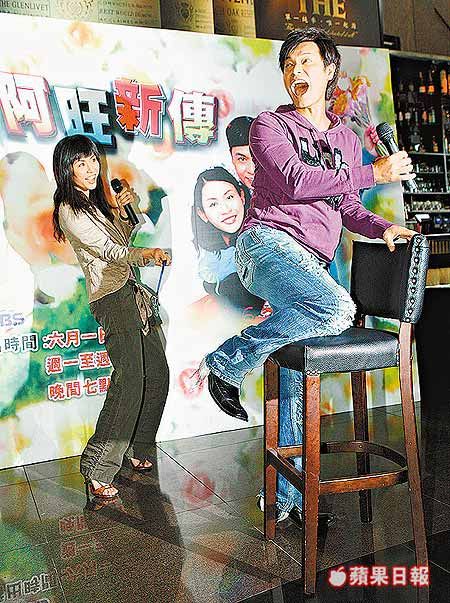 Roger Kwok (郭晉安) and Jessica Hsuan (宣萱) were in Taipei yesterday (staying about 4 days), promoting for TVBS on their series, "Life Made Simple" (阿旺新傳) with a meet and greet function with their fans. Over a hundred fans showed up to play games with Roger and Jessica, making the atmosphere very ecstatic and high. Always not been very well in speaking mandarin, Roger was playing the game "Eagle chase little chickens" [麻鷹捉雞仔], and cried out: "Where's my little chicks (雞仔)?!" and made the whole audience laugh! Because in Taiwanese, the term "little chick" actually means the males reproductive system! (hehe….)
In LMS, Roger's character, Ah Wong, is mentally hinder and naïve, so was not a perfect match for Jessica's independence stature. But the currently single, Jessica, she's not in any hurry to look for a new boyfriend, as her friends are doing all the looking for her! Jessica revealed that one time; her friends invited her out to dinner as an excuse, and used the opportunity to introduce her to some new acquaintances [boyfriends].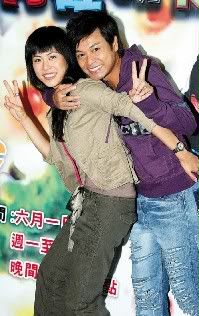 Ever since collaborating together in "Square Pegs" (戇夫成龍), Roger and Jessica's friendship had intensified. LMS was their 2nd collaboration, and they both wish that in the future they might have another chance to work together again, but not relating toward the "Ah Wong" storyline. Jessica said that Roger and herself would often go visit each other on the sets during filming. Sometimes, Roger would bring along some cakes and pastries to treat Jessica and the crew, as his girlfriend, Cindy Au (歐倩怡) had specially made for them.
During the filming of Life Made Simple, Jessica was reportedly hit by a semi-truck driver, and had the case filed all the way up to the courts. At the end, the driver was fined $9000 HKD and had his license suspended for 5 months. Jessica stated that the driver didn't find that it was his fault for driving so carelessly and was even mad himself! The neighborhood where the filming took place were filled with many pedestrians and elderly people walking/living. Seeing the possible danger that might harm others', Jessica had no choice but to file a lawsuit against him. Jessica also stated because she filmed for the series, "Files of Justice" before, she understands many of HK laws and regulations. So when ever encounter such situations again, Jessica's able to handle the situation with ease.