Sunday, June 18, 2006
Bernice gives dad $10, 000 present for Father's Day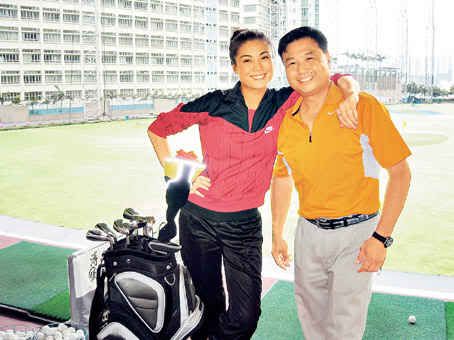 Today is Father's Day and being the good daughter she is, Bernice specially planned a surprise present for her dad. Knowing how much her dad loves golf, Bernice presented him golf accessories worth up to $10, 000 HKD for father's day! Because needing plenty of time and the difficulty of collecting the gifts, coming from Hong Kong, Japan, Malaysia, and even as far as New York, Bernice stated that she started collecting as early as last year! Ensuring that her dad would be surprise every year; Bernice would specially spend lots of time and effort in planning her Father's Day gift.
Bernice's dad can be considered to be a very loving parent to his daughter. Ever since five years ago when he heard that Bernice was coming to HK to launch her career, he dropped all his work in Canada and came over, just take care of her. "I'm really grateful for all that my dad has done for me. For the past 5 years, my dad has done an excellent job in taking care of me, while being separated thousands of miles from my mom! No matter how late I have work to at night; my dad will still come out and pick me up from work! In the past years on Father's Day, I would always treat my parents on a vacation, but this year, my mom's here in HK, so we're all just celebrating together."
Bernice revealed that while she was a college student in Canada, she once lived separately from her parents for about 3 years. But because she lacked the opportunity to see/communicate with them, their relationship weren't as close. Compare to now, as if there's any problems Bernice may have, she would consult them with her parents first. Bernice wants to take the time to encourage all of the younger people to treasure the time they have with their parents, as they're given the opportunity, and doesn't treasure it, they might end up regretting for their actions later. Seeing his daughter so successful, Bernice's dad is very happy and proud; encouraging Bernice not to slack off, but continue working hard.
Source:
Singpao