Sunday, June 25, 2006
Under the Umbrella of Love #2
When we think of favorite onscreen couples these days, we'll say Boscolie or Ronolie or Bermoses etc. etc. Which is true. They are quite memorable these days, aren't they? But how much or many of us remember the older generation couples? Well…technically, they're not that old. Just that we see them a lot more in the 90s than now. hehe… ;-) One of my favorite couples of all time and my UTUOL #2 feature: Bobesther!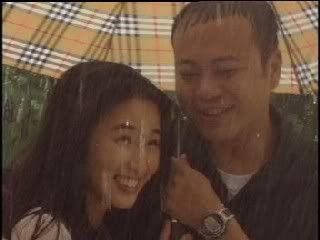 Siu Sang 小生 & Ngoh Je 娥姐
Series:
Armed Reaction (陀槍師姐)
Cast:
Bobby Au Yeung (歐陽震華) & Esther Kwan (關詠荷)
Year:
1997-98
lol…Bobesther. My first attempt in blending names together. Not that great (coughs: like my photoshop blending skills!), but okay la. Anyways…Bobby and Esther. Does anyone still remember this pair of dynamic duo? In my opinion, Bobby and Esther are probably one of TVB's funniest couples ever paired up onscreen. Their chemistry via dialogues, emotions, actions are all-well unison, so realistic both onscreen and off.
One of the reasons I started this feature and also one of my favorite TVB moments of all time, is between Siu Sung, Ngoh Jie, and this rain scene. Since in AR, both of them are middle-aged adults, no way can we expect them to say "I love you" or have a passionate kiss to get them together. That would be cheesy and…not right…for them. This scene was touching, had humor, had sparks, and most importantly, it had an umbrella!...making it into my UTUOL feature. =) Hope this feature brings back some nice moments for you!