Sunday, July 09, 2006
Child actress attacked Jessica Hsuan!
Source:

Next Magazine #852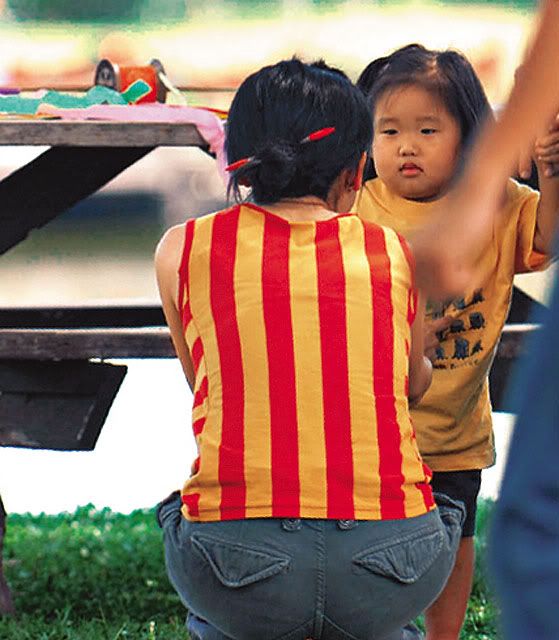 Leading actress, Jessica Hsuan, was filming for her new series, "Dou Cheung Fung Wan" 《賭場風雲》 earlier last month in the Philippines. In one particular scene, Jessica was needed to film with a little child actress; playing with her in the open meadow. Before needed on the set, Jessica was wanting to get acquainted with her "little" colleague; squatting down and talking to her. To Jessica's and everyone else's dismay, the little girl started crying! Trying her best to cheer her up, Jessica started making funny faces to get her to smile again. Yet, instead of getting better, it had just gotten worst! The crying little girl got agitated and swung her plastic cup in hand, straight at Jessica's face! Luckily, Jessica was able to dodge out of harms way, but was still shock with such actions. From then 'til filming, Jessica stayed far from the girl, and likewise, the parents kept a close watch on their daughter; preventing her from attacking Jessica again.
Thought that being Jessica was bad; being Bobby Au Yeung isn't that great either. In the past series, Bobby always had the opportunities of having the female lead in his arms. But this time around, while filming "Dou Cheung Fung Wan" 《賭場風雲》in the Philippines, not only does Bobby not get the opportunity to kiss Jessica or Tavia Yeung (Jessica shared a kissing scene with Michael Miu), he got a smooched from Benz Hui instead!
SEN:

Aww...the little girl looks so cute and chubby! lol...kinda funny of the whole situation. That girl got the guts attacking Jessica! haha...~shakes head~ ;-)