Thursday, July 06, 2006
Under the Umbrella of Love #4 & #5
Under the Umbrella of Love #4
Chris (金年) & Joey (王儀)
Series:
Virtues of Harmony II (皆大歡喜 II)
Cast:
Frankie Lam (林文龍) & Bernice Liu (廖碧兒)
Year:
2003?
Did I ever mention that I really really like Bernice and Frankie pairing up together? Well, I do! They're so cute onscreen! Whether in VOH or VOH II, this couple had a lot of memorable moments; of course, up to the episodes I stopped at. ;-)
"Virtues of Harmony" was Bernice's debut series in TVB (technically, her cameo in Golden Faith was her debut, but I think not). Her acting has improved immensely since her Princess days; her comprehension/enunciation of dialogues had definitely improved, too, but who she's pairing up with these days…umm…not that great. It's not convincing enough. True, there might be some sweet (funny) moments here and there, such as the one she had with Kenneth Ma in ITA, or the comedic scenes she had with Moses in LB. But there's no sweet glances, no sweet smiles that she once shared with Frankie. Such as the screen caps from above [below]. Probably, because I was watching VOH this weekend that brought forth my infatuation for them once again, but still…can we ever forget Gam Nin and Princess and how cute they were?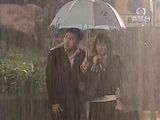 Under the Umbrella of Love #5
Ji Hin (智軒) & Dun Jue (頓珠)
Series:
A Colourful Life (錦繡良緣)
Cast:
Frankie Lam (林文龍) & Annie Man (文頌嫻)
Year:
2001
Speaking of Frankie Lam and Virtues of Harmony, why not do a double feature for UTUOL! A Colourful Life was dubbed as the shorter version of VOH by many; which can be true in some ways. First, it starred Cutie Mui, Louis Yuen, Frankie Lam; familiar faces from the VOH family. Second, it takes place in the ancient time, but instead of a restaurant there's a fabric company. Third, they're the constant bickering between the in-laws (mainly the females, but they are so funny!). And last but not least, the scholarly Frankie that was in bitter ends with his future spouse at the beginning and changes perspective about them later on. Bernice in VOH; Annie Man in ACL.
I have to say, without the females pairing up with Frankie, I'll be like "Who? What was so special about his character?" Yup, I'm talking about Frankie. He's doing the same roles over and over and over again, which is kind of irritating and can I say boring, too? True, Frankie does look smart, so he can't play any dumb or anything minor than his outer appearances. But what if he can? I say give him a try! Tired of his scholar looks in series after series, such as: Incurable Traits, A Herbalist Manual, Virtues of Harmony, etc. A little breakthrough from Frankie, perhaps?
Annie Man is a great actress. Why she's not promoted heavily by TVB, I have no clue. A huge lost by TVB in my book! Other than "Whatever It Takes" (天子尋龍) and ACL, Annie Man hasn't been top female leads for any other series. Again, a huge waste of good talent. Surprisingly, Annie's pairing with Frankie was quite enjoyable. Is it the supporting casts that made me like them? The series itself? Or that they really got great chemistry when working together? Umm…I think all 3. A Colourful Life; funny, witty, and sweet; a must see if haven't.
Image Credit:

TVB.com & MetalAznWarrior's VOH Network