Thursday, October 19, 2006
The Insider of "The Changing Times" 《歲月風雲》
I love the Blog now. I love the all the news that's being shared, the clips being uploaded, and the occasionally rare pics of certain people that's posted. It's great!
Found that there'a ton of celebrities [HK] have a blog themselves. Niki Chow has blog. Joey Yung has a blog. Fiona Sit, Kenix Kwok, Ekin Cheng, etc. etc. they all have a blog. Not only do they share their personal thoughts to us, but we get an insider source of what they're doing, too.
About a week ago on Jessica Hsuan's bravenet forum, someone posted up a link to Gigi Wong's blog (Gigi Wong played Oscar's [Raymond Lam] mom in Golden Faith). Started reading it and found infos concerning the new series, "The Changing Times" 《歲月風雲》. Thought I'll translate some parts of what Gigi said to you guys. Enjoy!
An Excerpt from "Gigi Wong's Kitchen"
Written by: Gigi Wong
Translated by: Sidney
Source: Gigi Wong's Kitchen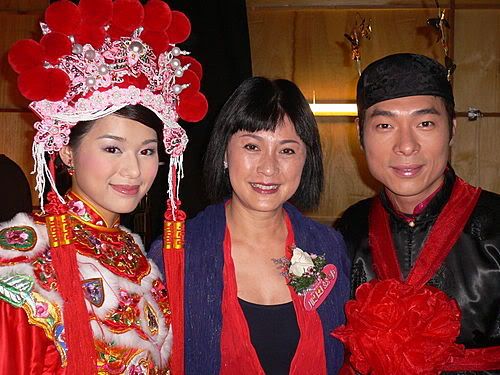 "....the picture above was 2 days ago during "Fat Tin's Happy Affair's" 「肥田喜事」promotional event. Seeing Myolie so happy while clad in the shimmering Chinese wedding gown, it's a given that she sacrificed a lot and placed lots of effort for this series. Although she still wants to loose another 8-10 lbs., but Andy [Hui] and I both think she's looks great the way she is. What do you guys think?...

...Yesterday, we filmed a big scene for "The Changing Times"「風雲歲月」 where we had a huge birthday celebration/dinner party for Lau Gong. TVB needed to arrange over 100 artists [bystanders] to help film the scene. Along with the regular cast (Damien Lau [劉松仁], Jessica Hsuan [宣萱], Michael Miu [苗侨偉], Sheren Tang [鄧萃雯], Joe Ma [馬德鐘], Lok Ying Kwan [駱應均], Lau Gong [劉江], Gong Hon [江漢], Jue Wai Dak [朱維德], and of course, there's me) and crew, we easily filled up Gold Coast Hotel's ballroom. At one point when I was bending to reach for a glass of wine, I suddenly had a cramp in my back! Damien saw this and hurriedly told me to sit down. He told me to relax while he used his hands to apply pressure on my calves a couple of times. I almost shouted out in pain, but the cramp in my back lessen, and eventually disappeared! It's like a miracle! Always the playful Jessica, she saw what Damien was doing to me and said "Me, too! Me, too!" She sat down and once Damien applied pressure to her calf, she screamed out in pain!! It turns out that Damien was applying twice as much pressure to Jessica then what he was applying to me! Damien later explained that over the year, he was pupil to a massage specialist, so he knows what to do at situations like these.

Filming took place around 8:00 pm, and lasted 'til the earlier morning of the next day around 5. After riding back to the studios, went home, and shower, the sun was already up by then. Tonight, I'll just have to try my best as I'll be filming more scenes with Damian for the rest of the night. Have to go read my scripts now! Bye!"