Friday, August 11, 2006
Jessica's working-holiday in Singapore
This was a very informative interview of Jessica Hsuan recently in Singapore; justed wanted to pass the news along to you guys, too. Enjoy!

*Special thanks to Jes from Jessica Hsuan's Bravenet Forum. She founded the interview, so credits to her! =) *
Jessica's working-holiday in Singapore
August 10, 2006, 4:34pm
By:
Low Lai Chow
Photos:
Twang Kuanyi
Source:
http://www.mediacorptv.com/
Hong Kong television actress Jessica Hsuan reckons that away from her homeland's persistent paparazzi and camera phone-toting public, coming to Singapore to film upcoming Channel 5 drama Parental Guidance is more like taking a holiday. Someone, pass her a Piña Colada.
Here in town to film upcoming Channel 5 drama Parental Guidance with a trio of rambunctious kids, Hong Kong television actress Jessica Hsuan is in 'yippee yay!' mode.
"I've told my friends and my colleagues that I'm having a holiday here for a month and a half! The schedule is more relaxing, you only work for half the time, the environment is nice, the air is clean, the food is good... I'm putting on weight, so I'm happy!"
Her right palm gives a firm pat on her abdomen, where a bulging tummy from three weeks of damage (read: stay in Singapore) is supposed to quiver disturbingly in return. But no matter how much we looked, we saw no sign of a spare tyre.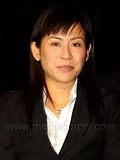 Screen siren, minus the airs
Throughout our short 25-minute chat with the actress on Monday, we are impressed by Jessica's down-to-earth personality as she leisurely walks about the photo studio in homely, comfy slippers.
Her winsome self-deprecating humour also gets us: "If there were more Hongkong actors and actresses coming here, the paparazzi would probably come over! But there's only one —me — so I guess it's just not worth it!"
She confesses to relish the freedom of not being plagued by pesky press hiding behind potted plants for that precious scandalous tabloid-worthy shot. To prove her point, she tells us about going shopping alone at Takashimaya and Great World City ("I walked in there for one minute and I bought two pairs of shoes!") without the aid of a security guard.
"I feel very safe here. People always say hello, like, 'Are you Jessica from Hong Kong? Hi!' and then they don't disturb you anymore. They leave you alone."
So enthusiastic about Singaporeans is Jessica, that she even lavishes us seemingly- incomprehensible praise— that Singaporeans are a polite lot. Could it be that she hasn't had her queue cut at a noisy hawker centre or seen how aunties 'cheong' into MRT trains for seats?
Or maybe it's just different in Hong Kong, where Jessica recounts how people routinely sneak snapshots of her in restaurants when she's trying to have a meal in peace.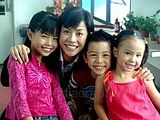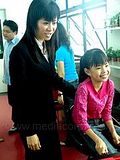 Jessica attempts to to be young again
Working with children
These days, Jessica has been experiencing life of a very different kind in Singapore: filming for the new Channel 5 drama series, Parental Guidance, mostly acting opposite her co-star Adrian Pang.
The series is set to premiere in the first quarter of 2007, and boasts a light-hearted coming-of-age plot about two lawyers who, instead of going 'Me! Me! Me!", take on the guardianship of three children and discover the significance of life in the meantime. Or something like that.
Working with Adrian has been a blast so far for Jessica, whom she says she feels a strong affinity to because both of them like having fun at work. And then, of course, there are the kids.
"There're kids running around, screaming! With kids, you have to try to control them, but they're very fun to be with and they're good kids. I love them. They're very different from kids in Hong Kong — in Hong Kong, they focus on academic work."
Still, Jessica admits she once used to absolutely detested kids for the ruckus they'd carry with them wherever they went. "Every time I saw them, I'd be like, 'Take them away from me!'"
It was only recently that she started to appreciate kids more for their straightforward attitude and innocence.
"In the adult world, it's a lot more complicated… When you talk to people, there's a technique. You have to be very careful of what you say and things like this make life stressed… The kids, whenever they're not happy, they just cry immediately. When they're happy, they start running around with a big grin on their face."
In real life though, Jessica owns five big dogs, Ding Ding, Boom Boom, Fatty, Junior and Lulu (her sixth, Beep Beep, recently passed away) whom she took in as strays and lovingly dote on like a mother.
"They're always happy whenever they see you, no matter how naughty they've been. Even if you hit them, the next minute they'll be wagging their tail."


Career woman
In Parental Guidance, Jessica stars as a "30-something ambitious, high-powered partner in a very prominent law firm" who finds her life changed when she's appointed to take care of her deceased cousin's children.
With a track record of highly-strung tough cookie roles that includes lawyers, psychiatrists and judges, surely there must be something about being a headstrong career woman that draws Jessica to these roles!
Jessica, however jokingly credits her fierce eyebrows for bestowing that mandatory 'don't-mess-with-me look' on her before telling us that she doesn't like to play "weak, girly characters" anyway.
"When I see people like that I'm like, 'Be strong!! Stand up for yourself!'
Not that she has never taken on such a role before. Circa TVB Drama's 1995 drama Cold Heart Warm Blood (Tian Di Nan Er) opposite Gallen Lo Ka Leung where her character jumped off a building to kill herself, to which Jessica hoots in laughter. "At that time, I was actually quite annoyed with the character! I remember complaining, 'Duh! What a stupid girl!'"
But she says taking on the odd softie role was fun. "We should try different things… though I enjoy playing professionals more than other kinds (of roles)."
Next in the pipeline: an as-yet-untitled cross-collaborative drama production between television stations TVB (Hong Kong) and CCTV (China), as soon as filming for Parental Guidance wraps up in late August or early September.
Her role? That of a rich girl who handles the family business. Somehow, we are not surprised.
With her contract with TVB ending in September this year, Jessica's fervent Hong Kong drama serial fans can at least heave a sigh as she promises to renew her contract.
However, she will no longer be managed by TVB. "I'll handle myself, or find somebody else to handle me."
Watch out for Parental Guidance in the first quarter of 2007.