Monday, August 07, 2006
Breaking News!!!
Breaking News!! lol...technically it's not breaking news as majority found about it already. But...I needed a eye-catching header. hehe... =D Anyways, if you haven't found about it, earlier this year, TVB had plans in making some major productions thats about 40+ episodes long. And it's true! One of them will be a 40 episodes series, that's currently filming, starring Moses Chan, Linda Chung, Raymond Lam, Fala Chan, Bosco Wong, Tavia Yeung, Yoyo Mung, etc. etc. called 糖心風暴.
And of course there's the other 60 episode series, "Fung Wan Shui Yuet" 《風雲歲月》 that's confirmed and is now the most talked about buzz everywhere! Why? Mainly because it's confirmed cast, starring Jessica Hsuan (yes!!), Charmaine Sheh, Myolie Wu, Raymond Lam, Ron Ng, Damian Lau, and mainland actors, Chen Kun & Chen Bao Guo. Personally, that cast there is more than enough reasons for me to watch this series when air, despite having (cough...cough) R_n in it! hehe... ;-) Yet...there's still one more person I haven't mentioned that came as a shocker to many of us. That is...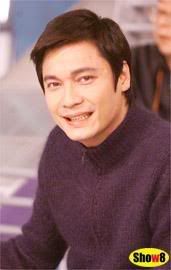 Him!! Yup! Gallen Lo's back!!! Yay!! Ecstatic I am! Woohoo!! Gallen and Jessica chemistry one more time! Basically it seems like the whole cast of Golden Faith is returning! We have Gallen, Jessica, Ron, Raymond, and Myolie already. Just need Deric Wan and Michelle Ye and that's basically it! lol...in my dreams! But there's one more person that we still lacked and was never mentioned in the news of participation. That is...
Him!! Yup! Joe Ma's in it, too. Surprised or no? hmm...I'm already thinking who could Joe possibly pair up with. Joe had already paired up with Myolie before in "The Gateau Affair" but there's Ron and Ray, so no chance there. Charmaine? Jessica? (shrugs) I guess we'll have to wait & see. =)
Btw, news source of Joe Ma's participation in "Fung Wan Shui Yuet" goes to Apple; posted by Stephanie @ Jessica Hsuan's Bravenet Forum. Translations here:
TVB and CCTV collaborating to celebrate HK's homecoming
Source:

Apple


Translated by:

Sidney
This October, TVB and CCTV will collaborate together to film a 60 episode series to commemorate HK's homecoming. In order to keep the series at its grandest, Leung Ka Su (梁家樹) will take the place as producer and renown "siu sungs" and "fa daans" will also be taking part in its cast. So far, confirmed artists are: Myolie Wu (胡杏兒), Jessica Hsuan (宣萱), Charmaine Sheh (佘詩曼), Raymond Lam (林峰), Ron Ng (吳卓羲), Joe Ma (馬德鐘), and Damian Lau (劉松仁). Besides taking place in HK and other mainland locations, crews will also be heading to Canada to do some location shootings as well!
Because the theme of the series is to commemorate Hong Hong's homecoming back to the mainland, TVB wants to finish the production and air it on July of next year; in time for the 10th anniversary celebration. Yet it all depends on how smoothly things run during production. Earlier, Charmaine Sheh was out at promotional events in mainland China and she has confirmed that she will indeed take part in the grand production. "I'd already received TVB's notifications that I'll be taking part in this series. So in October, I'll be heading to Beijing to start filming some location scenes. In the series, I'll be portraying a very strong-will girl."