Sunday, July 23, 2006
Series Recommendation?
Summer's about to be over; about 1 more month until the fall semester starts off again. Whoopie...(I sound so excited, don't I?) *sigh* So fast it went by! Well...in my last month of freedom, I'm trying to find some good series to watch. Any good recommendations, anyone?
Just recently, I finished watching Forensic Heroes, which was not bad nor the best series of the year. Before it was released, FH was dubbed as the modern version of Witness to a Prosecution and if you've seen it, there's not much similarities between the two, but more of CSI instead. I'm not a real fan of watching CSI, so no comparisons by me. Everyone did relatively okay, but some characters really do stood out amongst the rest, aka Yoyo's Madam Leung Siu Yao and Linda's Lam Ding Ding. Yoyo did really well in this series; one of the most enjoyable characters I've seen her portrayed. Breakthrough role? Nah...still not yet, but acceptable. Linda's a little bit...how should I say this?...annoying in this series? lol...I might be weird liking her after one series and turns around and hate her for another. But seriously! If you've seen (or heard) Ding Ding at the beginning, middle, and some parts of the end, she's quite pitchy when saying her dialogues. Linda's more quiet and mellow character roles are more suitable for her. Just my opinion.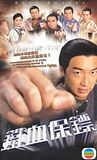 Le Femme Desperado and Safe Guards were great, too. Especially surprisingly SG, since I rejected this series earlier this year; mainly because of one person: Elaine Yiu. I think she's a terrible actress! I still do. Seen both RDOV and SG, and my impressions of her are still quite low. Other than that, SG is a fine series to watch. Definitely recommendable to others. Steven Ma fans: you'll love him. Wayne Lai fans: you'll love him, too. (Can't hate Wayne at all, despite all the things he's done.) *Special thanks to Ying (aka TVBsquare) for telling me to watch it everytime I talked to her; or else I would have missed it! lol...thanks! ;-) *
Other than those series, I've also watched Files of Justive V, Recipe of the Heart, Game of Deceit, Old Time Buddy and A Smiling Ghost Story. Yes...I admit...I can watch alot of TVB series if I want to. And pretty fast, too. hehe... =D So...any suggestions? ;-)
*Special Note:
TVfanSquare

(TVB Square) would officially re-open on

Thursday, July 27th

in its new home. (Yay!) Remember to show up for its opening day! TVBsquare has been working non-stop on it since the site first open back in 2002. With the situations earlier; dealing with TVB's legal department and thus the need to move/change the site around for the enjoyment of the fans; all her work has been phenomenal! Lets give our full support and make the new TVBsquare bigger and better than before! "Reminisce it's past...Revive it's glory...Reenter our lives...TVfanSquare: July 27th"