Monday, August 14, 2006
hmm...What to update?
hmm...blogging is hard now. I can't think of anything to update recently. In fact, I didn't really want to type this post up, but go straight back and continue my TVB series marathon! hehe...yeah...that's me! Ditching all else for TVB series. =/
Let see...what has happen over the past weekend. First off, there was the annual Miss Hong Kong pageant. (yay?!) Normally, I don't like watching pageants, but this year...it's just a bit different. I've watched so many! And I have to give credits to Asia; she's so good in making the pageants of Mr. HK and MHK sound so interesting! lol...thanks, Asia! ;-) Normally when I watch pageants, I pay the most attention to were the special guest performers. Watched the Mr. HK pageant this year; no guest performers, but still enjoyable. MHK, is practically the same for me, too. Like I said, I enjoy watching the special guest performers' performance more than the pageant itself, and after so many years, I'm still pretty much satisfied. E.g. year: 2004's MHK pageant, where there's Olympic 6 stars (Ron, Raymond, Bosco, Sammul, Kenneth, and Chris) performance, and along with Moses and Bernice's encore performance near the end. I like it! =D This year had Myolie Wu and Se7en performing together? separately? (shrugs) Don't know, but heard that's it's really interesting. I'll just have to watch it when it becomes available to me. =)

Speaking of MHK, my favorite was #15 Janet Chow Ka Wai who placed 2nd overall in the competition, so I was happy. She's pretty, young, and heard that she did an okay job in the pageant. I guess my choice for a favorite wasn't that bad! =)

Miss Hong Kong 2006 winner (#13) Aimee Chan Yun Mei is quite pretty, so overall, I'm pretty satified with this year's choice for MHK. Looking at Aimee's profile, she's 25 years old! That's pretty old for a MHK winner when comparing to the past winners. hmm...but in bright way of thinking it, Aimee is following the footsteps of soon-to-be Mom of 3, and former 1995 MHK winner herself, Winnie Yeung, who too won the title when she was 25 and became the oldest MHK winner in history. That's good...right? hehe...Just as long as Aimee doesn't end up portraying roles such as Winnie's Yeung Pui Kwan (楊佩君) character than she should be fine with us. ;-)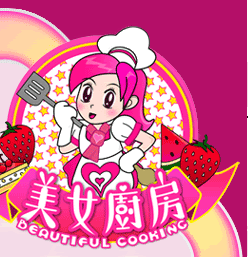 Besides the pageant airing this past weekend, Sunday was also the day for Beautiful Cooking. Yay!! Man...am I addicted to this show! It's great! But personally, I think the has lost some of it's attractiveness in the last couples of episodes. 1.) It wasn't as funny. 2.) Obviously they were picking favorites (cough cough...Amanda S.) and 3.) I guess I was tired of it, since the show was starting to repeat some of the activities. BUT.....
No show can go on for some time w/out some ups and downs in the process. Those were the down points I've mentioned, but the latest episode...it's a must see. Been quite some time since I had such a good laugh at their funny antics. If you haven't seen it, I'll be providing the link for d/l today. Hope you guys have a great laugh, too! Enjoy!
Beautiful Cooking:

Episode 11
MC:

Ronald Cheung, Edmond Leung, and Alex Fong
Guest Judges: Justin Lo, Leo Ku, and Roger Kwok
Guest Chefs: Ada Choi, Kary Ng, and Rain Lee

Download Here