Tuesday, January 16, 2007
Who's more disappointed?
TVB's 25th Annual "Top Ten JSG Award Presentation" was couple nights ago, and I finished watching it while trapped inside my house. Yes, it's trapped. A big snow/blizzard/freezing rain/sleet swept across where I lived. Can't go anywhere since it was unsafe to drive, much less walk down the driveway. So I lived on instant noodles, rice, canned corn & meat for 3-4 days straight. (shudders) Anyways, after I was finished, I was a bit confused with what I saw. This year's show was not as great as I expected it to be or in other word: it's crappy! Come on, TVB, this is your
25th
annual JSG award presentation, put some effort into it! One major thing I want complain about was the stage. Nothing grand at all, very plain looking compared to previous years. (sigh)
As many news source noted, this year's number of artist showing up at the award presentation had significantly decreased to an unbelievable amount. I was shocked. Umm...did they forget to come? It was January 13th, 2007 right? I had it right and was there, but I guess the lots of artists just decided not to show up. Who wasn't there? Let see...: Ronald Cheng, Edmond Leung, Kary Ng, Deep Ng, Andy Hui, Jordan Chan, Niki Chow, Toby Leung, Ella Koon, Jade Kwan...just to name a few. Besides, even if the artists were present, will they get the recognition they deserve?
As many "originally" expected (myself included), Leo Ku would come away at the end of the night as the Favorite Male Singer of 2006. BUT...to the surprise of many, he didn't. Eason Chan came away with the prize of the night instead. I wasn't terribly disappointed, as I didn't think Leo's "Love Too Late" (愛得太遲) deserved all the recognition it received. It was an okay song. I got used to it as it was played often when my brother is around me and came to like it. Felt really bad for Leo though on the "trick" TVB played on him. Arranging for Vivian Chow (Leo Ku's good friend) to present the Favorite Male Singer award, but not too him. Tricked the audience, tricked the fans, tricked me, and of course, tricked Leo. Leo must had been disappointed.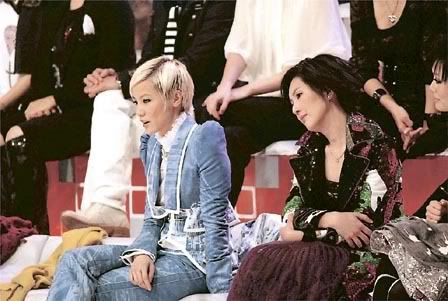 Again, as many expected, Miriam Yeung's chances in snagging the Favorite Female singer of the year award was very low. Very true and good prediction everyone! She didn't win. But she didn't win anything throughout the night either. No matter how many news source stated how good of a sportsmanship Miriam showed (which I whole heartedly agree), I'm sure she was disappointed seeing everyone around her getting up and receiving their awards. Heart wrenching night for her, but Miriam, the best of luck in the year of 2007. I'll support you. =)
Bernice Liu took home JSG's "Outstanding Newcomer" Award of the night. Hard for me to agree, but I, too, believe this award was rigged myself. Where in the world did this award come from? Out in the blue. What difference is it from the "Most Favorite Newcomer" Award? Not much. Who to blame? TVB. Why? I have one conclusion: TVB presented a total of 45 awards throughout the night. If they left out the award won by Bernice, it'll then be 44 awards total. 44...not a good number. Superstitious matters of course. Poor Bernice having to suffer the criticizing from everyone, but I she was really happy when it was presented to her. Singing wasn't great at all, but can't say she was disappointed that night.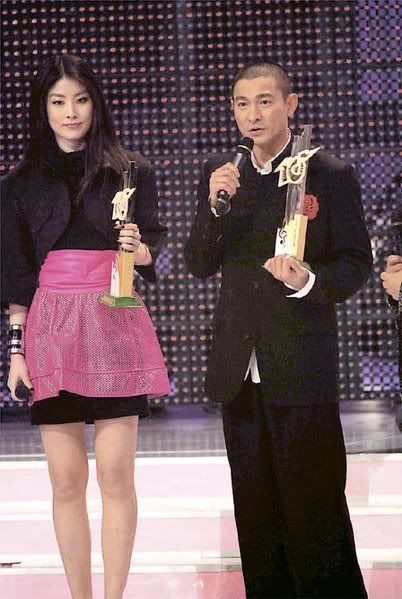 I wasn't surprised that Miriam Yeung didn't received the Favorite Female singer award. I was semi-surprised that Leo lose out to Eason Chan. But I was most surprised that Kelly only won 1 award throughout the whole night! Unbelievable! She didn't even get one of the "10 Ten Gold Song award!" No offense to any of Twins' fans out there reading my post, but I don't think they should have won for the song: "You're not a Good Lover" (你不是好情人). It's not right and not fair! But then again, like Andy Lau said, "Award shows is not down to "fairness" nor "unfairness" anymore. Just regulations and non-regulations." Who set's up these regulations? Why of course the broadcasting network, or in this case, TVB. Yes, I am disappointed with TVB right now, but all I can do is hope for a better show next year. I HOPE!