Sunday, November 19, 2006
Happy Birthday, TVB!!!
"Happy Birthday to you!" (clap clap) "Happy Birthday to you!" (clap clap) Happy Birthday, Happy Birthday, Happy Birthday to you!!" (clap clap)
hehe...Happy 39th Birthday, TVB!! Woohoo!! Today, November 19th is the official birthday celebration of TVB Anniversary and as annually there was a huge extravaganza to celebrate its joyful day. Watched the anniversary show already, and I have to say, it's way better than last year. lol...compare any year to last year's show, anything is way better!
The show lasted approximately a little less than 2 hours long (commercials deleted), but I wouldn't mind if it was a tad longer. The performances weren't as all that great but enjoyable enough. Took lots of time playing games then actually performing. I guess interacting with fellow colleagues is a good thing, as we can see how happy everyone was. I meant it! Everyone seem to be having a blast this year! I'm going to do a recap of the Anniversary night. So if you don't want me to spoil it for you (or listen to me blabber ;-) ) I suggest you stop reading right.......NOW!! =P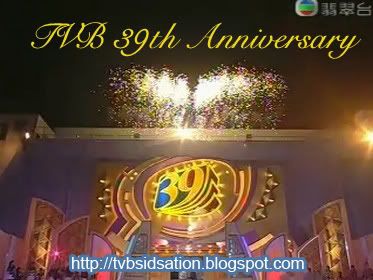 It's been awhile since we last saw Sir Run Run (Uncle 6) at a TVB event. He didn't participate at the "Jade Singers Celebrate TVB Anniversary" nor the "TVB Anniversary Award Ceremony." Nope, just tonight! Carol Cheng and Liza Wang acco
mpanied Sir Run Run in lighting event; officially starting the celebration of the show. Btw, I have to mentioned that TVB is so creative by having this jade ball rise up, and float on water (there was a stand) once the switched was activated. hehe...so cool! What! I'm easy to be impress by simple objects like these! =D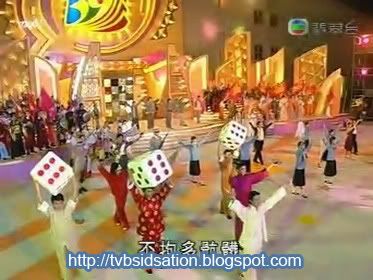 Next, were some dances that features all of TVB's artists dressed in costumes ranging from Chinese Opera to Justice Bao to Shanghai time periods to modern day clothing. Basically emptying TVB's dressing room in the back with every costume available. (I am so sorry for whomever works in the dressing room! They will have a lot fun doing that pile of laundry! )
All the artists were separated into different groups: the performers, the wavers, the dancers, and the walkers. The pictures above are the artist that actually performed; dancing and [lip] singing. Top "siu sungs" and "fa daans" came out next, led by the cast of "Welcome to the House,"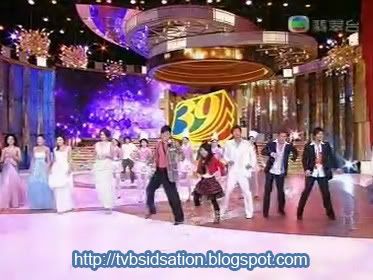 however, they didn't do much other than wave to the audience. (waves back) The dancers are the group with TVB variety shows' hosts, MHK contestants, etc. who just moved with the beat of the music. hehe...cute! And last but not least were the veterans, who walked out from the back, onto the stage, walked down the stage, went outside, and joined the rest of the artists for the big finale.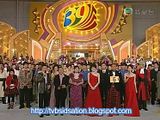 The special edition of "Ah Jeh" Cooking was the first performance of the night with Nancy Sit, Carol Cheng, and Liza Wang cooking. At first I was very excited about it, since I'm a fan of "Beautiful Cooking." However, when this segment past the 10 min. mark, it turned flat and sorry to say, a bit boring. It was taking too much time! Btw, the judges were Nat Chan, Michael Hui, and Alan Tam with Roger Kwok, Kevin Cheng, Ron Ng, and Bosco Wong as the chef's special assistants.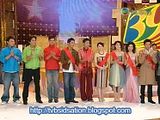 A huge game was played throughout the night of the show; splitting the artists up into 2 group (red and green) with 3 rounds. Round 1: "Th King of Game's" specialty game: blowing out candles with face plastered to a flexible, plastic sheet. Round 2: "15/16's" marching game, and Round 3: "Super Trio's" drawing the ping-pong ball suction game. At the end, the winning team was again split into 2 teams to play a round of "15/16;" regarding trivia questions of past TVB Anniversary events.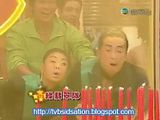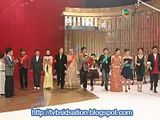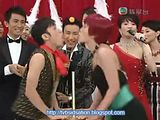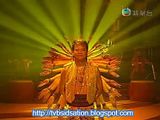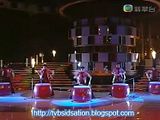 Nat Chan and Eric Tsang, I guess you can say, were the 2 sole performers of the night with each having a dance routine of their own. Nat performed with a group of artists in a drum/feather/1000 arms dance. Pretty well coordinated during the 1000 arms part. Average performance overall.
I have to give credits to Eric for being a great guy in his dedication towards Lydia Shum. (Fei Jeh). Lydia wasn't able to participate in this year's anniversary, still recuperating from her recent release from the hospital. Despite not being able to make it, Eric deliberately made his image the exact replica of Lydia (again) during his performance, saying it can't be a TVB Anniversary without Lydia here! How sweet! No matter how many times I've seen Eric dresses up like that, can't seem to get tire of it. He's funny! Along with Eric dressing as a female, his fellow comrades: Lam Mun Chung, Tang Tze Fung, Louis Yuen, Cheng Chi Kwong, and a whole group of [male] artists were singing, dancing, and flapping their dresses for the crowd. Quite funny and the guys [in dresses and make-up] were pretty ugly, too, as they went around and introduce who they were. (shivers)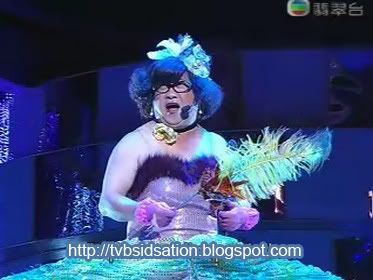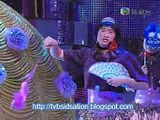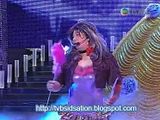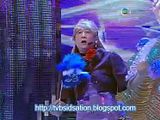 Last but not least performance of the night was the Anniversary skit. Like every year (again, except last year's) TVB Anniversary skit is supposedly very funny and pokes fun of the most recent entertainment news. This year's is no different; focusing on the rumor couple: Bermoses; the Bosco's SMS textings; Yoyo's relationship with Ekin; etc. Using the theme of a sculpture display exhibit, Eric, Nat, Carol, and Alan [Tam] picked, poked, wrote, soaked, and scared all the artists: Moses Chan, Gigi Lai, Bernice Liu, Bosco Wong, Sonija Kwok, Kenny Wong, Charmaine Sheh, Bowie Lam, Kenneth Ma, Roger Kwok, Kevin Cheng, and Yoyo Mung. Very funny during the Moses and Bernice's part (she was picked up and placed on Moses lap!), but felt sorry for Gigi, Charmaine, and Bowie on their's (Gigi had a "fake" insect [1] thrown on her; Ah Sheh was scared by her own surname, a snake [sheh= snake; cantonese term] or so they say was in the bag; and Bowie was washed like he was a window pane [he doesn't look that happy!]) Very funny segment; a must watch!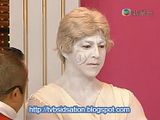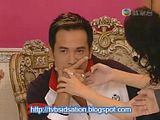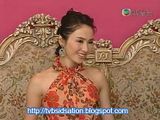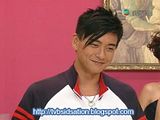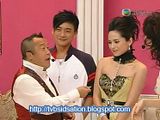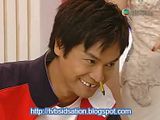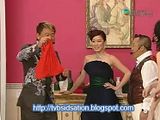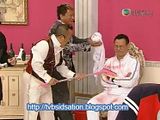 The anniversary show wraps up quickly with the grand prize drawing of $390,000 HKD (yeah...no cars giveaways much less a new home; weird). Cut the the cake (the cake looks yummy!), invites the executives on stage, repeats their motto once again: "Always in the lead. Wonderful 39 years!" And wallah! There you have it! TVB's 39th Anniversary! Hope you guys enjoy reading my semi-long recap of the anniversary night. The show overall was average, but highly acceptable since we've got our performances back to the way it used to. I'll recommend watching it. lol...I recommend watching anything! hehe...see for yourself if you like it or not! =)