Thursday, November 02, 2006
Joe Ma crawls under a car to win Jessica's heart
Source:

Apple
Jessica Hsuan and Joe Ma were filming early yesterday morning for their new series, "The Changing Times" 《風雲歲月》. The scene talked about how Joe was trying to win over Jessica's heart, going as far as kneeling in the street, crawl under a car, and even touching a sewage lid! However, the main purpose was just for Joe to retrieve Jessica's earring for her. Seeing a sophisticated, well-bred guy willing to kneel in the dirty street for her, Jessica was very touched. They hugged, held hands, and walked off as the scene became very romantic.
Although through the camera's point of view, it was very sweet, but if looked from a different angle, not very so, as Joe forgot the principle rules of being sanitary: After crawling underneath a car and even touching a sewage lid, Joe forgot to wash his hands and went on to hold Jessica's hand!
The anniversary is coming up soon and Jessica is nowhere near the rumors flying about, however, she seems to be okay with it. Not stress at all, but seem to be very happy, too. Before filming started, Jessica even went to a nearby convenient store to buy drinks for the whole cast and crew; as they all shouted "Forver Jessica Hsuan" in return of her good deed.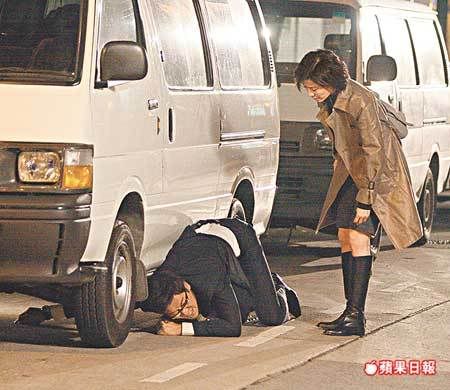 In order to win Jessica's heart, Joe Ma's willing to lie in the street and crawl under a car to retrieve her earrings for her.
Finally winning over Jessica, Joe immediately gave her a big hug; while on the other side, Jessica was wiping her hands with a tissue!
Joe just finished crawling underneath a car and even touched a sewage lid, but didn't wash his hand before holding Jessica's hand. So unsanitary!