Sunday, September 03, 2006
Face to Fate: A Warehouse Series?
TVB produces a ton of series every year to be air. From Nov. 19 of one year and all the way 'til the next Nov. 19th, every series aired is crucial, meaning they get a shot a in the nominations list for the Best... in whichever category respectively.
If a series is lucky and the producers, executives, etc. of TVB all likes it, it gets air. If you're not...what else could happen to it? Back into the house it goes...warehouse, is what I meant. So far, I could only think of 3 that's been put on the warehouse list. 1) Trimming Success, 2) Au Revoir Shanghai, and 3) Face to Fate.
Trimming Success has been the only series pulled from the list so far to be aired back for HK viewers, but will the others get the same fate? I hope so! Especially with Face to Fate, since that's what I'm watching right now. =P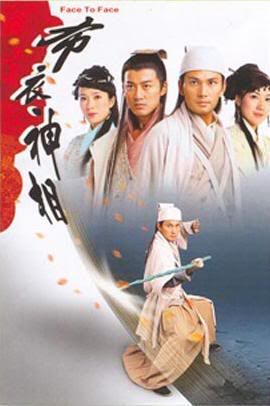 Face to Fate. 布衣神相. Pretty surprising to me that this series was put on the chopping block as a warehouse series, other than being broadcasted. Why? Simple! Because of it's cast! There's Raymond Lam, Frankie Lam, Tavia Yeung, Selena Li, John Chiang, Anne Heung, Nancy Wu, and many more! Sound like a great cast to me. The storyline, I can't say, to be simple, and easy to understand, as I was a bit confused earlier. But it's still pretty good so far, especially with the added humor in their dialogues. Quite witty, as you can't help but tweak a smile at times when watching it. =)
The themesong was sung by Raymond Lam, which was a bit fast pace, but still okay. On the otherhand, the sub-theme sung by Frankie Lam and Tavia Yeung is the one I'm quite fond of right now. Don't really know why, but I guess that's just a personal preference by me. =D What do you guys think?
Face to Fate
themesong (TV-version)
Singer: Raymond Lam (林峰)
Download Here
Face to Fate
sub-theme (TV-version)
Singers: Frankie Lam (林文龍) and Tavia Yeung (楊怡)
Download Here