Tuesday, August 22, 2006
Joey vs. Fiona
I've finally gotten the chance to listen to Fiona Sit's (薛凱琪) newest cd, "Electric Angel." To be honest, the CD's really not that bad, but could always be better. But for some odd reason, when I first saw the cover of the album, I thought "This is the album? But...but...it looks so much like Joey Yung's (容祖兒) "Ten Most Wanted" album, too!" Take a look!
Fiona's "Electric Angel"
Joey's "Ten Most Wanted"
lol...so much for originality, huh? Come to think of it, Joey and Fiona does have quite a lot in common with each other lately...in the past...same same. =) Aside from the album covers mentioned, Fiona and Joey both won the Best Female Newcomer award respectively, placing gold @ JSG's Top 10 Award presentation (Joey in 1999, and Fiona in 2004).
As of lately, the newest series currently filming is The Academy 2 (學警雄心 II), starring Ron Ng, Sammul Chan, Joey Yung, Kate Tsui, Sonija Kwok, Michael Tao, etc. and of course we can't forget one of the original cast herself, Fiona, who'll just be having a cameo role in this sequel. See! Again, the resemblance as Joey takes the plate, replacing Fiona and Tavia as the main lead. Even their hair cuts are quite similar, too!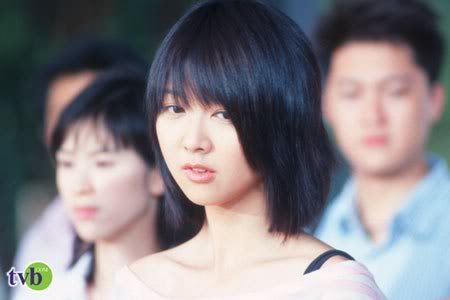 Personally, I'm very excited with this sequel. The Academy was great! Except for the ending though...a bit draggy. Anyways, Fiona was originally paired up with Sammul Chan, but if you read the news lately, you'll know what happen to her character. As for Joey, she's going to be paired up with Ron or so I heard, so a difference there! Nonetheless, I'm happy and can't wait for it when airs. Although I'm not a big fan of Ron's, but his character as Chung Lap Man (鍾立文) was quite enjoyable. Shocking to me, too, but still can't wait! =D