Tuesday, September 11, 2007
Jessica, Roger, & Kevin battled with Instruments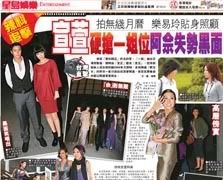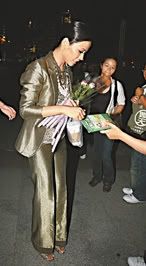 Source:

Singtao & Sina
With this year being TVB's 40th Anniversary, TVB specially asked the renowned Stanley Kwan to be the director for their 40th anniversary calendar photo shoot. Earlier this week, Charmaine Sheh, Roger Kwok, Jessica Hsuan, Kevin Cheng, Leanne Li, Anna Yau, Queenie Chu, Sung Chih Ling, and 8 others were present in a remote area in Taipei for the November (anniversary month) photo shoot. Stanley instructed the females to hold either feathers or handkerchiefs, while the guys hold instruments in their hands. Standing in the front row were Charmaine Sheh, Jessica Hsuan, Roger Kwok, and Kevin Cheng.
During break time, Jessica picked up one of the trumpets lying around and started to blow into it. Sparking his interest, Roger went over, took the trumpet from Jessica's hand, and blew into it himself; started an instrument playing/blowing contest! Kevin soon join in with the fun; grabbing a saxophone to play; turning the scene into a musical instrument war!
Being named as TVB's #1 sister, Charmaine was reportedly bashed by the public as being arrogant. For example, in TVB's current airing series "The Drive of Life," Charmaine's acting is criticize as being way too over the top (over-acting); causing the ratings to not meet ideal standards. Charmaine's character, "Wing Sau Fung" was,too, not a favorite amongst the audience. Instead, they favor Jessica's Wah Ching Yu" much more. Supposedly, when Jessica was to be in the photo shoot with Charmaine, etc, Charmaine's face immediately darken. Too further enhance the situation; Jessica was to stand in the middle, in the front beside Roger, while Charmaine and Kevin stood on either side of them. The speculations of the 2 ladies at odds with each other appeared to be false, as they were frequently seen chatting in the make-up room and in-between takes.