Thursday, August 23, 2007
Jessica Hsuan on the cover of "Me Magazine"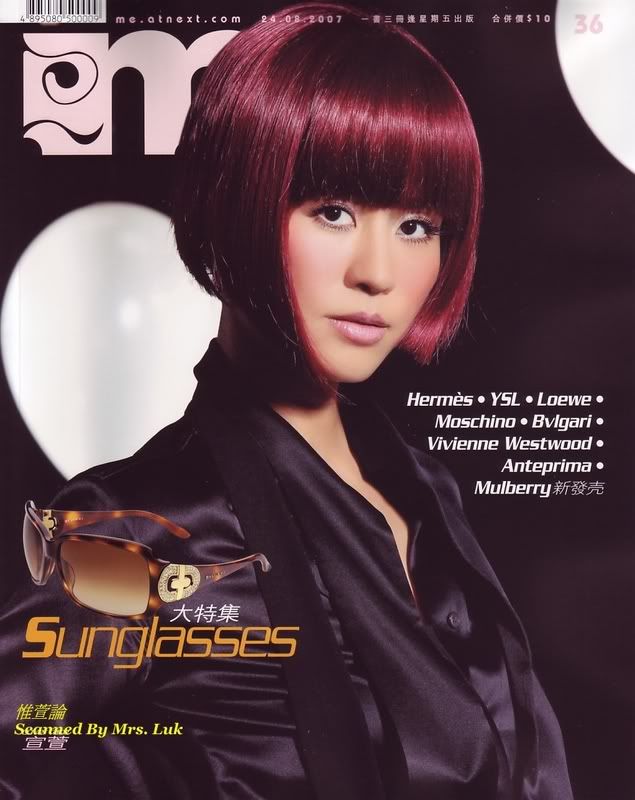 Pictures Scanned by:

Mrs. Luk @
Jessica Hsuan's Forum

Translations by:

siaozhabor @
Jessica Hsuan's Forum
(If you're wanting to post elsewhere, please linked back to Jessica's Forum)
Jessica was busy with the filming of "Healing Souls" in China and would only return and stay in Hong Kong for a night. As she had promised to do a cover page shot for Suddenly Weekly, her manager phoned them on a Tuesday. The reporter immediately went to borrow some outfits for shooting on the next day. The photography session was completed on Wednesday and Jessica proceeded to China to continue filming that night. The precious one-day break was given to "Me!" exclusively. The reporter's impression of Jessica was a famous actress from TVB and had previous records of troubles. Her appearance that day changed the opinion of the reporter towards her from troublesome to straightforward and neat.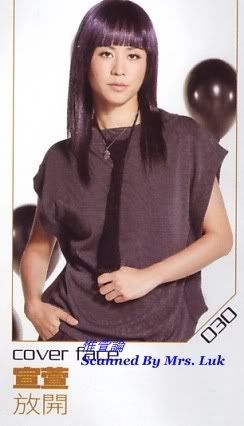 Straightforward
The reporter felt that readers would be familiar with her series and classic works given her fame and he was afraid that he would mention incorrect facts as he seldom watch television programmes. He chose to ask Jessica on tips of being beautiful, and unexpectedly, Jessica answered, "Did you do any research on me before interviewing me?" Her tone was not harsh; however, the reporter was stunned. It would be bad to admit the truth and it is worse to lie. The reporter experienced Jessica's candidness through the fact that he did not do his homework.
There should be little opposition when we conclude that Jessica is straightforward. As the reporter was caught red-handed not doing any research, he asked her on the titles of works that she was satisfied. "I was satisfied with Golden Faith and gave myself 95 marks. Other shows like Detective Investigation Files IV and Life Made Simple are OK. However, none of the shows relied on the female lead to bring out the whole story. Although I was contented with the shows, I would feel that I still lack a representing show in the hearts of the audience!"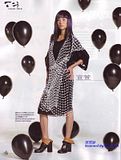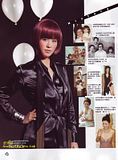 Flow with Fate
Jessica was plain when she spoke which was very different from the previous entertainment tabloids that alleged wars between female artistes. "My mentality had changed and I reduced the total number of shows filmed in these recent years. I changed my contract with TVB to 'per series' lest a continual filming of shows. On the extreme end, my career is nothing compared to family, friends and love. Now, I would have a holiday in Hong Kong whenever it is possible to return to my dogs and cherish the time I had with them."
We know that Jessica appreciated dogs. What about humans? Both relationships that were known to public almost made it onto the red carpet. Does Jessica wish to marry badly now? "I admit that I exceeded the optimum age of marriage and I had experienced the period of time where I longed for marriage. There would be a reason to a breakup in my previous relationships- either we were incompatible or we were immature. Since we already made the decision to no sound the wedding bells, I would not marry for the sake of marrying when I am more mature now. The old saying goes, "leave everything to fate!"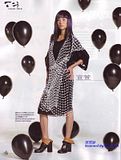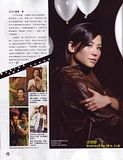 Jessica had softened up a lot. Previously, she would ignore or reprimand reporters who asked questions that she was not interested in. Now, she would answer, "I had little interest in it. If you insist on asking the question, I would answer." Jessica mentioned that clothing and fashion wear was part of her job, and there was no such thing as pursuing. The most common type of clothing that Jessica had was jeans, followed by flat-soled shoes. There were around 10 pairs in her closet and she need not purchase more as she had enough. High heels were meant for work and she was not so stupid to torture her legs in her leisure time. She was not precise about their brand.