Friday, June 01, 2007
Jade Solid Gold w/ HOG Cast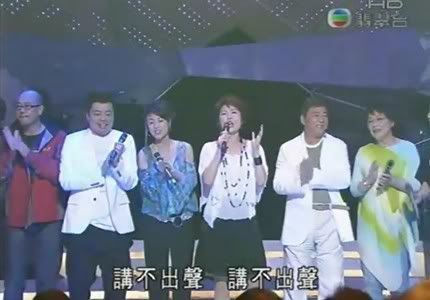 As everyone knows, the cast of the hit series "Heart of Greed" were present at this week's Jade Solid Gold episode. Cast members present:
Ha Yue, Lee Si Kei, Susanna Kwan, Michelle Yim, Louis Yuen, Raymond Lam, Tavia Yeung, Linda Chung, Fala Chan, Natalie Tong, Carrie Lam, Tracy Yip, Lily Leung, Lee Shing Cheung, Lee Kwok Lun, Cheng Ka Sun
Again, I love Susanna Kwan! Her singing is so powerful! lol...too bad I can't say the same thing about Michelle Yim. Let's just say her singing was not up to par with the others, but her present was highly enjoyable enough for me. Raymond sang the song "Vincent" solo before he paired up with Linda to sing their song "Sum Ling." Linda singing sounds pretty similar to the recorded studio version, bravo to her. Improvement. Raymond was just great eye candy to look at, didn't pay much attention to his singing (sigh) =D
Surprise of the night for me was Lee Si Kei . She can sing?! Yup! She definitely can. Although I watched her part a couple of times already, I still can't tell if she's singing live or it was pre-recorded already. hmm...either way, she was great.
Downloads:
TVB's Scoop Interview of HOG cast:
(after their performance on JSG)
Download Here
(
Uploaded by:
Sidney;
Credits for clip:
TVB.com
)
Jade Solid Gold w/ HOG Cast:
Download Here
(
Uploaded by:
Swy_yoko @ Asianfanatics

)
*I'm still trying to upload the JSG show myself, but it's just taking forever for me. =( Will replace link once I'm finish. *