Tuesday, April 25, 2006
The Hype of TVB's Dance of Passion Countdown: 5 days left!
Here's a clip of TVB's Scoop (東張西望) of the Dance of Passion cast at the premiere of DOP at the IFC cinema.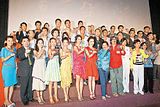 Click Here
Credit: tvb.com
Summary of Clip:
-The cast was fascinated/excited that premiere was at a cinema instead of on TV.
-Gigi Lai doesn't have to pay for any expenses on her outfit.
-Ada Choi and Charmaine Sheh are really promoting the series, 火舞黃沙, with the color of their outfits. (hey, it matched what I said!)
-Rumors of Ada Choi and Kenny Wong an item.