Thursday, April 20, 2006
The Hype of TVB's Dance of Passion Countdown: 10 days left!
My hype of DOP continues! Thank goodness there's only 10? 11? more days left! I'm running out of things to talk about. Plus I'm getting confuse on how many days there's left! lol...=D I can't even do a countdown right! Oh well...I hope you guys continue reading my special features of Dance of Passion's cast!
Helen Ma Hoi Lun (馬海倫)
Like the other older cast members, I don't what I can say about Helen. I don't know much about her. Let see...Helen Ma. You'll probably recognize her the most from doing lots of TVB's long running dramas whether in the 1996? series Kindred Spirit (真情) or in 2001's Virtues of Harmony (皆大歡喜). Alot like Rebecca Chan, Helen has been with TVB for a long time. Basically she can be very diverse and versatile in all the characters she portrays. For example, she can hilarious in Lady Flower Fist. Quiet (mute) in Happy Ever After. Funny & ugly in VOH. A rich & snotty in Stage of Turbulence. etc. etc.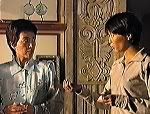 Fun fact about her? Umm...couldn't really find any. Sorry! =P
What should we expect out of Helen Ma in DOP? Well, first off, she's a new cast member added (different from the original cast of WAB). From the looks of it, Helen will probably be a mom, an aunt, a servant, or a person that just helped raised one of the main leads aka "li ma"(sorry, forgot what's it call in english). Anyway, my guess will be that Helen's on the side of Ada Choi. I've seen it before from a magazine article that showed Helen and Ada together, but forgot where. hmm...Oh well! Since Helen is new to the cast, it should be pretty fresh. But since her role is just a minor role, than it really doesn't matter. Or does it? hehe...we'll just have to wait and see!
Image Credits:
MetalAznWarrior
; tvb.com
Image Editing:
Toomanysidesofme
(thank you! =D )