Monday, April 24, 2006
The Hype of TVB's Dance of Passion Countdown: 6 days left!
The special premiere of Dance of Passion was last night at IFC. Here's a pic of our 4 leading ladies of Dance of Passion at the event:
Charmaine Sheh, Ada Choi, Gigi Lai, & Maggie Siu
Don't they all just look great! Funny how they're all dress in the color of different parts of the flame! lol...They really helped promote the
"火"
(fire) of it's title "火舞黃沙." hehe...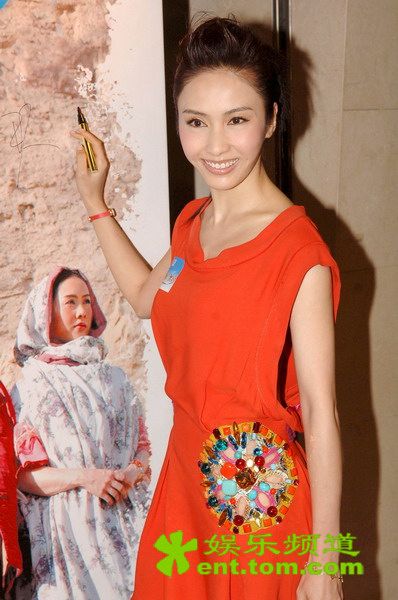 The "Red" Flame
Normally, when we look at a flame, the red or outer-layer is what everyone notices. Same thing goes with Gigi Lai. Attending the premiere in red, Gigi captures a lot of the attention with the usage of the color. With her popularity soaring from her role of as Yuk Ying in WAB, the viewers attention might just turns toward Gigi in the series as well. Ability to captivate the viewers' attention, but doesn't burn as hot as the others. What good will that do?
The "Red-Orange" Flame
This middle layer is not the hottest part of the flame either. But like the red, it's what viewers see the most. Personally, I think Ada has a chance to get our attention. Since been gone so long from filming TVB series, it's a fresh image to look at. Hotter than the "red" flame, Ada's "red-orange" layer extinguishes Gigi. Or will she...
The "Yellow" Flame
I have to agree. Charmaine looks the greatest among all the actresses present at last night's premiere. Very elegant, sophisticated, and a touch of "spring" time look to it. hehe...As a continuation to my flame theory, the yellow region burns even hotter than the red or red-orange level. Although losing out on attention from Gigi (winning Best Female for WAB) & Ada (with her comeback), Charmaine still manages to shine right along with them; in my opinion, mostly for her ever-growing fan base. Hotter: Yes. Will she stay burning hot in the series? We'll see...
The "White-Hot" Flame
Maggie Siu was the only one who didn't wear a dress. Looking very professional in her all-white suit, she's telling all she's got it covered! The white part of a flame is the hottest section of the 4 I've listed. Maggie has the looks, has the experience, has the ability to do what she does best to stay on top as one of the best. Youth makes no difference as long as the "fire" continues to burn brighter and hotter within.
*
Side Note:
I know that Ada's dress is more pinkish than "red-orange," but wanted to go along with my post today! hehe...Hope you guys don't mind! =D *
Images Credit:
Sehseh's Blog