Wednesday, April 26, 2006
The Hype of TVB's Dance of Passion Countdown: 4 days left!
*
Warning:
This is a very very long post by me. Best read if you have time! hehe...enjoy!*
vs.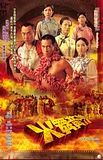 War & Beauty (金枝欲孽) vs Dance of Passion (火舞黃沙)
TVBsquare
gave me the idea to do a comparison of the two awhile back, but I didn't have much info of DOP, so had to wait. Now since we're almost there, why not do some of the comparisons shall we.
The Titles:
War & Beauty; 金枝欲孽 It fits the theme of the series pretty perfectly. The whole series was based off of the concubines and the Empress, wanting to remain or capture the Emperor's affection and attention. Bitter rivalries, deceptions, lies, truths, deaths, births; evil to good, good to evil, all happens within the palace walls.
Dance of Passion; 火舞黃沙 Storyline based off of a resentful rivalry between 2 clans, the Sung and the Yim's, seeking revenge on one another. Again lies, truths, deceptions, evil/good are all exposed and out in the open. Dance of Passion? What does that have to do with it? Is the cast (the men/women) trying to dance away (to avoid) the passion (their hearts) that is constantly building up within their rivalries with one another?
vs.
Sheren Tang (Yu Yuet) vs. Maggie Siu (Shun Long Yuet)
All along, I have always thought of Maggie as a replacement of Sheren Tang, and mostly because Maggie's a veteran like Sheren. Never would I have guess that they would have the same name as well! "Yu Fei" or "Yu Yuet" in ancient (empirical times) vs "Long Yuet" (period times). Coincidence? Lol…=D Yu Fei was married to the emperor as a concubine and suppose head over others. Maggie is married to Kenny Wong, the suppose heir of the Sung clan. Both loses power for inability of conceiving desire birth; Sheren because she had a baby girl, Maggie because she can't conceive? Power vs. power. Experience vs. experience. Can Maggie meet up to Sheren's? Especially after what Yu Fei's popularity have achieved?

vs.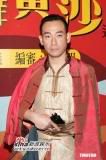 Bowie Lam (Suen Bak Yeung) vs. Bowie Lam (Yim Man Hei)
Basically, Bowie plays the same type of character. Instead of head doctor withing the palace walls, he's head of the Yim clan. He has wife, whom he doesn't love (Gigi Lai) and falls in love with another married woman (Ada Choi). Sounds familiar? Basically a reenactment of WAB but instead of that one girl (sorry, forgot her name) as his wife, he has Gigi instead. Loving someone whom he should stay away from (Yuk Ying in WAB), how different can Suen Bak Yeung be that much different from Yim Man Hei?

vs.
Charmaine Sheh (Yee Shun) vs. Gigi Lai (Gai Ming Fung)
Charmaine's character, Yee Shun, in WAB has got to be the saddest person on earth. All her life, everything is all planned out for her. Nothing was ever in her decision. Got into the palace as a concubine, be affectionate with the emperor, etc. What's worst is that when she actually stands up to the one person she loves and desires the most, she got rejected! Gigi Lai's DOP character (Gai Ming Fung) should be about the same type. Married to a guy whom she has no feelings for (yet) and pushed to things against her wish or desire. Great way for the scriptwriter to change things around from WAB to DOP! Last time, Gigi got the guy and left Charmaine in the dust with no one. This time, will Gigi get the guy again or will she be like Charmaine in WAB and be left in the "sand" with no one?
vs.
Gigi Lai (Yuk Ying) vs. Ada Choi (Jui Yuk)
Yuk Ying was the beauty of the all the concubines and little did anyone know she was one of the evilest person around. Matches Ada's character pretty perfectly. Again, besides having a "Yuk" in their names, their character's journey should be similar as well; Yuk Ying a threat to the concubines & Jui Yuk, a threat to the Sung clan. Both fell for Bowie's character, and winning his devoted affection. Gigi won the Best Female for her role in WAB. Will Ada follow her footsteps and win it again for her 2nd Best Female? It has been almost 8 years since Ada last won the award, about time to win it a second time, don't you think?

vs.
Moses Chan (Hung Mo) vs. Moses Chan (Sung Tung Shing)
Okay, I don't really have much to say about Moses's character in both DOP and WAB. First of all, I don't like Hung Mo at all! He's smart yes. But so evil and the jealous type of guy! Constantly in WAB, Hung Mo was jealous of Maggie Cheung (Onn Sin) and whomever that helps her in any way other than him. In DOP, Moses is supposed to have a relationship with Charmaine's character, but after some twist and turn, their love turns into a forbidden relationship. Jealous (possibly) of his fiancée turning into someone whom he can't have, same as Hung Mo loving Onn Sin, who was one of the emperor's concubines. Same…same…

vs.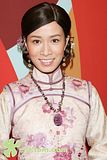 Maggie Chueng (Onn Sin) vs. Charmaine Sheh (Ka Chun Fun)
Pity is what I say for both characters. I guess their lives are just never meant for long-everlasting love. Maggie Cheung's Onn Sin was fine as a servant inside the palace, but push turned to shove and shove turned to push, she was one of the emperor's concubines. Same goes with Charmaine. Supposedly to marry her fiancé, Moses Chan, but again the whole push shove situation, she didn't and may possibly be another "concubine" for her future husband, Kenny Wong. Maggie's character didn't get much recognition in WAB by anyone. But since Charmaine's character is so similar, all might change (again because of the growing fan-base of Charmaine's). Maggie ended WAB in the arms of her love, but dies. Charmaine? hehe…better not say more. 2 Reasons: 1) I don't know! 2) The Charmaine fans will kill me if I say anything bad about her! =D
The Emperor vs. Kenny Wong (Sung Tung Yeung)
Like I said earlier, Kenny is the suppose heir of the Sung family clan. But isn't. Has a wife, Maggie Siu (whom I said was the period version of Yu Fei), and will get a concubine, Charmaine Sheh. That's basically all I have to say. lol...I think you get my point!
Theme Song:
The theme song of WAB was sung by Bowie Lam, called 兒女 (Children). For those who don't know already, the theme song of Dance of Passion is again going to be sung by Bowie. This time, called 風沙 (Sandstorm). Excited? Ehh…It's Bowie. Same…same…not surprise nor excited. Just ehh…for me. =/