Monday, July 02, 2007
A Better Tomorrow Concert
If you guys haven't found out yet, this past Sunday was the 10th Anniversary of Hong Kong's reunification with China. Since it is the 10th Anniversary, TVB & CCTV once again collaborated together to produce a series of concerts (basically a couple of different shows with a variety of top artists in the entertainment, well-known athletes, acrobats, etc. over this past weekend) to perform. The first one I finished: "A Better Tomorrow Concert" 《香港明天会更好: 庆祝香港回归十周年(同一首歌)大型演唱会》.
I really love concerts like these; so interesting and entertaining. However, there's a minor setback I didn't like. Everyone was speaking in Putonghua! lol... my comprehension of Mandarin is not very good. I can understand pretty well, but only if it's spoken at a slow pace. Luckily, throughout the show, Carol Cheng, Eric Tsang, and some CCTV hosts (I assumed) took turns MC-ing (Carol and Eric's mandarin were pretty slow, and once in awhile added a word or two of Cantonese in their dialogues. lol...made it a lot easier for me.)
For me, the best part of this concert (mainly because I'm most familiar to these artists) was when TVB artists came out to perform...or should I say lip-sync their songs. First up was, Patrick Tang & Anne Heung singing Beyond's hit "Glory Days" 《光輝歲月》. Very good song, an oldie with nice lyrics. I'm actually surprise to see Patrick Tang perform. I read from somewhere that he just recently re-signed with TVB and already he's...just there! Anne's pre-recorded voice sounds very husky in my opinion, but that's what she usually sounds like whenever she sings.
Next comes the cute couple, Raymond Lam and Bernice Liu singing a remix? version of Andy Lau's "The Days We Passed Together" 《一起走過的日子》. Raymond is just a great singer and wonderful to look at, but for some odd reason, I didn't like this performance. =/ lol...Bernice...looks great, good effort with the lip-syncing. If you guys read the news the past couple of days, TVB artists were struggling with their introductions of themselves in Putonghua, and Bernice was one of them. Poor her, she probably had no idea what was being said around her. However she did mustered out a "Wo ting bu dong" (我聽不懂) when Eric kept on bullying her. lol...kinda funny.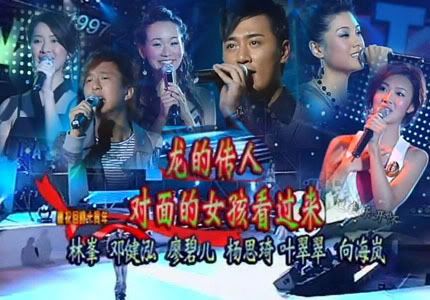 Shirley Yeung, Tracy Yip, along with Ray and Patrick performed Richie Ren's song "Girl Across the Way, Look Over Here" 《對面的女孩看過來》 (I love this song!). Based on my opinion only, I think Shirley did the best amongst the girls in singing. She sounded good to me! (shrugs) Earlier there were reports that Shirley was "frozen" by TVB, which I think is true. I'm assuming she should be on her way back pretty soon. Like Patrick Tang, she's there performing and representing TVB. The second song and last song that all six artist performed was Leehom Wang's "Descendants of the Dragon" 《龍的傳人》. I absolutely love this song. So no matter who sings it, I'll still like it. No comment there. =)