Monday, April 10, 2006
The Hype of TVB's Dance of Passion Countdown: 20 days left!
I have absolutely nothing to post today or for the next couple of days. I'm way too busy for to do translations, and much too lazy to even update! lol...Oh well, if you have a blog, one must update, and I am! Today and for the next couple (20) days, I'll be referring mostly to TVB's Dance of Passion as my topic and using some of the pics found as my source. Will I make it to the whole 20 days until it airs? lol...I don't know! But I hope you guys continue reading it! Here goes...
Since I talked so much about Ada Choi yesterday, why not try my luck on Bowie this time! hehe...this would be interesting! =D According to the promo clip and the news that's been flying around, seems like Bowie and Gigi Lai are again a couple for Dance of Passion. Am I ready to see them again onscreen so fast? Of course not! I don't know why, but they just can't cast a spark with each other! Sure...sure...they both respectively won the Best Male/Female awards back in 2004, but that was nothing! Oh well... I'm still going to watch it despite all the bickering and the bantering they'll have in the series (reasons? check yesterday's post =D ). Yet isn't it kinda funny how Bowie and Gigi's series with each other is slowly moving up the timeline: going from ancient Dynasty to period drama. lol...hey, TVB might make it a modern version of WAB & DOP! We'll never know, but lets just hope for the best this time around!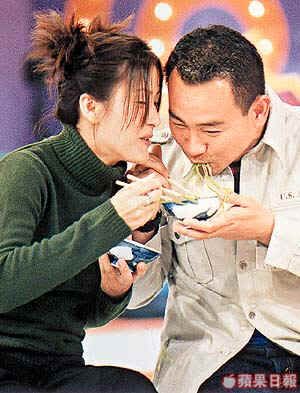 It's been a long time since I've seen Bowie paired up with anyone that he has a good chemistry with; aka Flora Chan. I love them together, all the way back since I've first seen them in Untraceable Evidence II (鉴证实录 2). Good acting works best when they're with the partners that suits them the best, which brings out the best! That's what they do to each other. Too bad Flora's not with TVB anymore, or it would have been great to see them onscreen one more time!
What do I expect from Bowie's performance in Dance of Passion? hmm...I don't know actually. All his acting seems to be alike in some way or another, so I'm not expecting a breakthrough role from him, much less the Best Male. Since I watched some of the promo clips posted online, I would say his character reminds me a lot like his character as Kevin in File of Justice. I don't know why, but it just does! lol...when I know, I'll post it up later. But for now, my hopes on him just isn't very high. We'll just have to see! Tomorrow...Charmaine Sheh!!